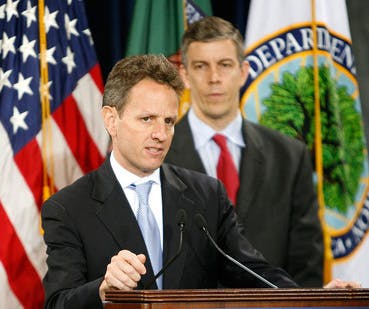 Washington — Crushed by record levels of student loan debt and hindered by a lackluster economy, borrowers of private student loans say they are being given the runaround when they seek to negotiate repayment plans or to refinance their loans.
That is one of the key findings of a report being released today by the newly-created Consumer Financial Protection Bureau (CFPB).
"By far, the most common concern communicated by borrowers has been the difficulty negotiating a repayment plan with their servicer in periods of unemployment, underemployment or financial hardship," states the annual report of the CFPB ombudsman, which is being submitted today to Congress, U.S. Secretary of Education Arne Duncan and U.S. Secretary of the Treasury Timothy Geithner.
"Many borrowers report frustration that they are unable to identify appropriate personnel that can make a determination about their repayment options," the report states.
Student loan borrowers have also reported inability to refinance loans at lower rates.
"We have heard from borrowers who say they are looking for loans with more attractive terms, but many have been unable to take advantage of today's historically low rates," the report states.
Rohit Chopra, the student loan ombudsman at the CFPB, said the report represents a preliminary look at problems being faced by borrowers of private student loans, but that more information is needed in order to develop specific policy solutions.
"I see these complaints in our report in some way serving as an early warning," Chopra said. "But first, we need to make sure that we understand the extent and prevalence of these issues … We really have more work to do to see how widespread these practices are."
Chopra cautioned further that the report is not a survey and "not statistically significant." And the report notes that many of the borrowers who filed complaints have loans that originated prior to the use of special disclosures for private student loans that weren't previously in place.
"The complaints that were filed seemed to be, in many ways, a backlog of people who had been searching for help for years," Chopra said. "And before the financial crisis, many of the loans that were originated did not necessarily have the clearest disclosures."
Chopra said the effectiveness of those new disclosures has yet to be tested.
The report comes at a time when outstanding student loan debt surpasses $1 trillion, having outpaced credit card debt back in 2010. Private student loans account for more than $150 billion of that amount, the report states. Of that $150 billion, at least $8 billion in private student loans are in default — an amount associated with over 850,000 individual loans, the report states.
The report is based in part on roughly 2,900 private student loan complaints lodged with the CFPB this year. The vast majority of those complaints were related to "loan servicing and loan modification issues," the report states.
Most of the complaints — 87 percent — were directed at seven companies, namely: Sallie Mae (46 percent); American Education Services (12 percent); Citibank (8 percent); Wells Fargo (7 percent); JP Morgan Chase (5 percent); ACS Education Services (5 percent) and KeyBank (4 percent).
"This is not surprising, given that the private student lending and servicing markets are highly concentrated," the report states.
Efforts to reach Sallie Mae, the company that was the target of the lion's share of the complaints, were not successful.
The report draws parallels between problems experienced by private student loan borrowers and mortgage borrowers, such as "improper application of payments, untimeliness in error resolution, and inability to contact appropriate personnel in times of hardship."
The report notes that half the borrowers who experienced problems were in the 22-29 age bracket, and that many had borrowed money to attend for-profit colleges.
"Some consumers described how school representatives (at for-profit colleges) provided information on loan programs in order for the borrower to quickly obtain financing for enrollment," the report states. "Some borrowers report that they have been unable to find adequate employment in order to service the debt offered by parties affiliated with the school, despite assurances to the contrary.
Lauren Asher, president of Oakland, Calif.-based The Institute for College Access and Success, said the young age of most of the complainants was "striking." She also noted that for-profit colleges enroll disproportionately high numbers of minority students, who are thus impacted more by the "harsh terms" of private student loans.
"I think it's important to note that while the boom in private loans peaked before the credit crunch, new borrowers are taking out new private loans right now," Asher said. "Millions in private student loans are being made every year."
For these reasons, she said, the report's recommendations are relevant to prospective students as well as those who already borrowed.
The recommendations include doing more to:
Identify opportunities to spur the availability of loan modification and refinance options for student loan borrowers, and
Continue initiatives to increase adoption of the Income-Based Repayment program for federal student loans.
Asher said the latter recommendation is important because many students who have private loans have taken out federal loans as well.
Haley Chitty, spokesman for the National Association of Student Financial Aid Administrators, said private loans are particularly vexing for institutions of higher learning because unlike federal loans, they do not require any institutional certification.
"Making sure that financial aid professionals have all the information they need to counsel students — and the resources they need to accomplish that face-to-face counseling — is the best way to ensure that students secure the most workable loan terms and make the very best fiscal decisions," Chitty said.
Updated 10/16/12 10:30 a.m. 
A Sallie Mae spokesperson responded to Diverse, saying "When  customers facing financial difficulty have exhausted traditional repayment options, we may offer a variety of tools that help amortize the loan including reduced monthly payments, interest-only payments, extended repayment schedules and temporary interest rate reductions all scaled to a customer's individual circumstances and ability to make manageable payments.  In fact, we have modified $1.1 billion in private education loans with interest rate reductions or extended repayment since 2009."