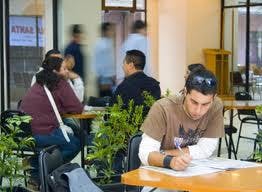 Although most colleges and universities have retention plans and resources to ensure its students stay in school, it's been estimated that as many as one in three first-year college students don't return for their sophomore year. Among disadvantaged populations, this rate is even higher. Facing a wide variety of problems adjusting to college life, from emotional to academic, it seems that current retention plans have room for improvement.
This is where csMentor comes in.
"CsMentor represents a new approach," said Steve Wattenmaker, CEO of csMentor. "We want to gather information directly from the student, not just about the student."
Wattenmaker explained that most retention programs run by colleges and universities are impersonal. Messages are often delivered in large group settings, making students aware of on-campus resources, and students are monitored via data-driven solutions.
"Many individuals don't seek those necessary services until they've reached a crisis point. At this point, the odds are stacked against successful intervention," said Victor Reinoso, a member of the csMentor advisory board. While existing retention programs tend to intervene reactively, csMentor is focused on intervening proactively.
Beginning during the spring semester of a student's senior year in high school, csMentor begins sending students Mentoring Interactive Programs, or MIPs, on a weekly basis. Accessible online or through a cell phone, these MIPs take about five minutes to complete and include a short video like "Coping with the BIG Separation" or "Professor Bonding," followed by a multiple-choice survey of 10 questions. Designed by experts with years of college counseling experience, these questions address four developmental areas: health, social adjustment , academic performance, and academic intention.
Although responses to specific questions are not shared with a student's family, the student and family will receive a weekly progress report indicating whether there are troublespots in any of the developmental areas. At that point, students and their families can interact with school resources to ensure that the issue doesn't reach a crisis point.
Funded by the Bill and Melinda Gates Foundation, csMentor has partnered with the College Success Foundation-DC (CSF) to create a pilot program in which about 100 low-income students were enrolled in the csMentor program. However, instead of sending the progress reports to a student's family, they're sent directly to those that work with the students at the College Success Foundation.
"So far, the students are anecdotally reporting that they love the mentoring videos and are participating in the surveys each week. I think it's a pretty positive initial response," said Wattenmaker. He added that the results will be evaluated later this fall, and that, if all goes well, CSF could scale up its use of csMentor as soon as early 2013.
CsMentor is  currently available to families for $29.95 a month.