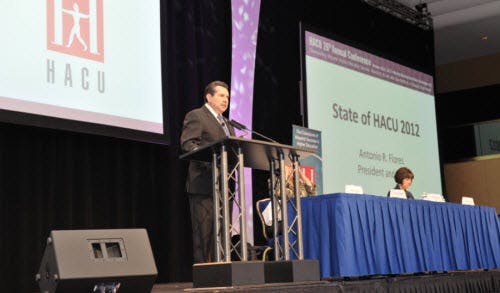 WASHINGTON — Despite record levels of enrollment among Latinos in higher education, institutional leaders must create a "culture of evidence" in order to advance Latino student success.
That was the heart of message delivered this weekend by Dr. Frank Sanchez, vice chancellor for student affairs at The City University of New York (CUNY).
"It's not just collecting data and analyzing data," Sanchez said Saturday during a speech titled "Latino Student Success: Evidence Informing Policies & Practices."
"We have to disseminate our data to the campus community, and then we have to determine where we can take action," Sanchez said. "This is going to have to be a standard practice."
Sanchez made his remarks as keynote speaker at the 11th Annual Latino Higher Education Leadership Institute held by the Hispanic Association of Colleges and Universities, or HACU. The leadership institute is part of HACU's annual conference, which wraps up Monday.
Sanchez shared a series of tips on specific things that institutional leaders can do to improve outcomes for Latino students, from reexamining course policies on late adds to creating an "ethos of caring" on campus.
Other speakers stressed the need for Latinos to increase their numbers in leadership positions in higher education.
Dr. Antonio Flores, president and CEO of HACU, cited a recent survey that shows numbers of Hispanics in president positions in higher education has declined from 3.8 to 3.1 percent.
"That's unacceptable from a standpoint of what we stand for," Flores said, noting that the leadership in higher education does not reflect the rapid growth of Latino students in higher education.
He noted that HBCUs and tribal colleges have leadership that reflects their student bodies.
"You go to HSIs, you don't see that," Flores said. "We have to change that.
"From my standpoint we have no other place but up with respect to that. We need to be intentional. It's not just going to happen because we wish it. We need to create the kind of platforms that will create those new generations of leaders in our community."
In his keynote speech, Sanchez, of CUNY, said there are specific things that institutions of higher learning can do to increase success among Latino students.
Things he urged institutional leaders to do include:
Identify classes in which students have a high proportion of Ds, Fs, incompletes or withdrawals. "If you're not doing that, I will guarantee you that's where you'll find that you are losing your students," Sanchez said. "The vast majority of those courses are gatekeeper courses. If students are failing gatekeeper courses, they are not staying. So let's identify how we can supplement our budget" to bring more tutoring and academic support to students who struggle in gatekeeper courses.
Provide "high quality student engagement. The more you provide quality student engagement, the more students are going to succeed."
Examine financial aid data to identify where there are significant differences in success of Latino students based on financial aid. A mere $500, he said, can be the difference between graduation and non-completion.
Dedicate a staff member to track whether institutional scholarship dollars are being spent. "Not all scholarship dollars reach students," Sanchez said.
Reexamine late course add policies to see if students who enroll in a course late get bad grades. Don't just look at late adds as additional revenue. "Is it about helping students succeed or is it a budget decision?" Sanchez asked.
Reexamine probation and suspension policies. "You would be surprised at the number of students who get probation/suspension letters … and they don't know they can come back."
Make sure students complete the FASFA. He said CUNY found that hundreds of students who have a zero EFC (expected family contribution) weren't filling out the FASFA and thus missing out on crucial financial aid.
Consider adopting stringent attendance policies where students are discontinued if they miss three courses. "If you can make it happen, it can change the culture of students being engaged and involved on your campus."
Sanchez also stressed the need for campuses, regardless of size, to create  "psychologically small experience"; to provide peer and faculty and mentoring; use a "high tech, high touch" approach with students and create an ethos of caring.
"It's really about the culture of your institution," Sanchez said. "You have to permeate an ethos of care about your students.
"If you can have this ethos of care in the delivery of service and delivery of instruction, I can convince you that you will see dramatic gains … by that alone."