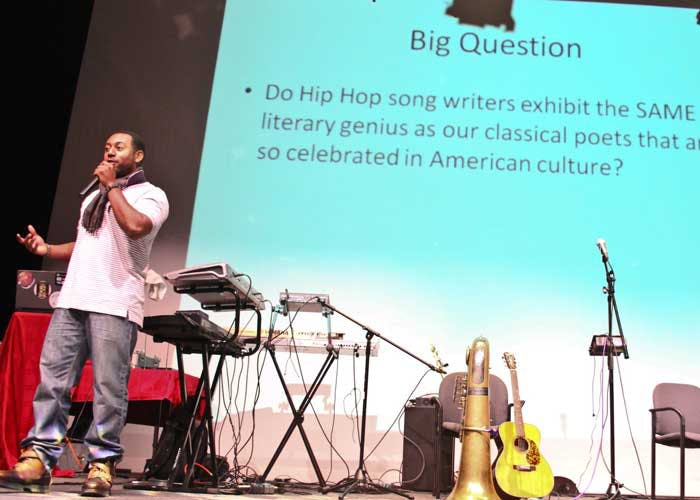 Gilbert Perkins, whose stage name is Sage Salvo, works to challenge the notion that hip-hop is not a literary art form.
Last October, Gilbert Perkins, 31, found himself on the coveted stage at TEDx's Mid Atlantic Conference. During his 15-minute lecture, he gave a brief hip-hop 101 lesson on how 16 bars translate into a 1,000-word song. Thus, a 12-track hip-hop album renders a literary production of about 12,000 words. To Perkins—an adjunct professor and Ph.D. student at Howard University—this length of composition merits a literary feat.
In one of his favorite cafés in Washington, D.C., sipping his customary black coffee with honey, Perkins further validates this often-disapproving genre of music as true prose by explaining the piercing symmetry he has found between the lyrics of hip moguls like Jay-Z with the school-taught works of William Shakespeare.
"Jay-Z is really good at using extended metaphors. I can give at least three or four examples of how Jay-Z uses this technique, the same way Shakespeare uses the device," Perkins says.
This skill of identifying recurring patterns of literary devices—double entendres, metaphors, onamonapeias—between varying texts started out as a hobby for Perkins. He would listen to music and read poetry and be able to pinpoint the similarities.
Today, he uses these correlations as the basis of his program, Words Liive—a semester-long curriculum for high school students, which delves into more than a dozen examples that bring together traditional literature and philosophy with current, urban rhythm and rhyme.
"I wanted to develop an augmentation tool to teach literature and history by using a portal that kids are familiar with," he says.
Being a first-hand witness to the effects that irrelevant curriculum and misguided teaching can have on a student's academic performance, Perkins believes that most students are not intellectually challenged; they're simply bored in school.
"But if I can use Lil' Wayne, 2 Chainz and Jay-Z, then all of a sudden they'll be interested and they'll grasp it," he explains.
Growing up between Northeast D.C. and Reston, Va., hip hop has permeated and cultivated much of Perkin's existence. Early on, his introduction to rappers like Nas nurtured his appreciation for the consistency in range, subject matter and intellect that hip-hop music has to offer.
During his sophomore year in undergrad at Rutgers University, Perkins banned together six D.C. natives to start a Gogo band on campus. Although the band lapsed after he left New York to finish his degree in North Carolina, Perkins got his first taste of rapping with a live band through this experience and loved it.
Today, he's an independent artist who goes by the name Sage Salvo.
"Sage means wisdom and Salvo is a military term like artillery, firing off or an aggressive assault," he says. "I put them together to represent wisdom that comes out of the context of violence."
But unlike rappers whose entire bodies of work are seemingly saturated with talk of violence, Perkins chooses to speak on subject matters that he feels aren't highlighted a lot on hip-hop, like love, being a man, being vulnerable and good decision making.
"I like to put a twist on things," he says of his music.
The twists that have grown his following as a lyricist have also had positive responses from students who have experienced his Words Live program since its conception.
Two years ago, while speaking at a D.C. high school, Perkins gave his first example to a group of students who were known for leaving class early and coming to school late. Through his analogy, however, he found that these kids were enthralled. In fact, they stayed after class to ask questions and get his contact information for ongoing discussions.
This was when he realized he was on to something. So, he went to his proverbial literature lab to research education reform and found works from individuals like Sir Kenneth Robison. From his findings, he was further affirmed that giving students experiences to learn through was the best way to teach.
This year, he will be officially launching Words Live as an academic contractor in Washington, D.C., metro public and charter schools, giving students a chance to learn through, create and perform hip-hop as it relates to other forms of literature.
Through his program, Perkins also hopes to educate some parents and hip-hop critics who believe the music lacks substance and viability in the classroom, proving that it can actually serve a purpose.
"It's a large perception that hip-hop and education are at odds, or mutually exclusive. But if students have to study Shakespeare and Edgar Allen Poe, and I can show them how Lil' Wayne does the same thing, they might end up respecting Poe more," he says.