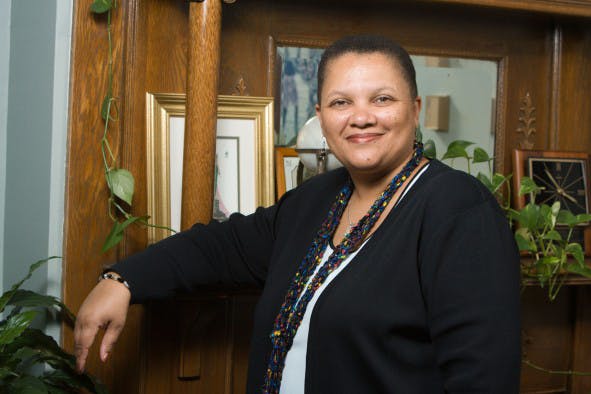 Washington – When Savannah State University president Cheryl Dozier addressed a U.S. House subcommittee Wednesday about the impact of cuts to the federal TRIO programs, she said there was "no doubt" that TRIO helps students succeed.
"TRIO programs are an important component of an opportunity infrastructure that allows all of our citizens to reach their full potential," Dozier told a subcommittee of the U.S. House Committee on Appropriations.
She said TRIO programs—which serve nearly 800,000 students from low-income families nationally but are likely to serve less in the wake of a $42 million cut it suffered under across-the-board federal program cuts known as sequestration—both "complement and leverage our federal investment in financial aid programs."
"There is no doubt about it," Dozier told the U.S. House subcommittee on Labor, Health and Human Services, Education, and Related Agencies. "TRIO is the fiscal insurance policy that helps ensure that our state and nation's students succeed."
Despite Dozier's enthusiasm for TRIO, deciphering with clarity just how effective TRIO is at her institution is not an easy task.
Savannah State University hosts three TRIO programs: Upward Bound, Talent Search, and Student Support Services. The first two are pre-college service programs meant to help prepare disadvantaged students for college through tutoring and counseling, as well as standardized test preparation and assistance with college admission and financial aid applications.
Nearly 1,000 students in middle and high schools near Savannah State University participate in Upward Bound and Talent Search.
"These tools make it clear to students that college is a real possibility for them … indeed a destination," Dozier testified.
Student Support Services provides similar services to students once they are enrolled in college.
Since Savannah State University began hosting TRIO programs in 1966, more than 20,000 alumni of the program have moved on to "amazing lives," Dozier said, and many have stayed in Savannah and the region and have "contributed to the advancement of the community."
Despite the large amount of students being served by the program, the local school system does not have data that currently show the college access rate for non-TRIO students as compared to TRIO students who have attended the Talent Search and Upward Bound TRIO programs, according to David Smith Jr., Dozier's chief of staff at Savannah State University.
And do TRIO students graduate at higher rates than their non-TRIO peers at Savannah State University, where the six-year graduation rate is 30 percent?
"We are working on pulling that data together now," Smith said. "But it will take a few days."
A different Savannah State University official also responded to a Diverse reporter's request for information on the graduation rates of TRIO versus non-TRIO students.
"After further investigation, I learned that, until this year, the TRIO programs … were not required to follow up on undergraduate students at any institution," Elazer J. Barnette, Associate Vice President for Academic Affairs, said in an e-mail.
Barnette also said a report may be available on Monday.
In some ways, the murky picture concerning the effectiveness of TRIO programs at Savannah State University mirrors the mixed and sometimes lackluster results that evaluations have found concerning TRIO programs nationally.
For instance, when it comes to Upward Bound, one federal evaluation found that Upward Bound had "no effect on enrollment at postsecondary institutions or postsecondary credits earned by students overall" and that it "may have increased enrollment in four-year colleges by about six percentage points but the evidence is not statistically conclusive."
The same evaluation found that Upward Bound "has a substantial impact on high school and postsecondary outcomes for certain groups of students."
"In particular, Upward Bound consistently showed a positive impact on students who, when applying for the program, did not expect to earn a B.A. degree," the evaluation states. "Although these students with 'lower educational expectations' comprise only about 20 percent of Upward Bound participants, participation in the program increases the total number of academic credits they earn in high school (two credits) as well as AP credits (0.7).
"Most significantly, Upward Bound more than doubles, from 18 to 38 percent, the likelihood that these students will enroll in a four-year college, and improves their early college persistence as measured by total credits earned (11 additional credits)."
The finding that Upward Bound inspires students who might not otherwise go to college is one that Dozier emphasized during an impromptu interview with Diverse outside the subcommittee hearing room.
"These students were not college bound, and through TRIO they now aspire to enroll in college," Dozier said.
As an increasingly fiscally constrained Congress considers funding priorities going forth, a key question will be not only whether TRIO students enroll at higher rates than non-TRIO students, but whether they graduate at higher rates.
"I recognize that we are in an era of great austerity, particularly with the recent implementation of sequestration," Dozier told the House subcommittee Wednesday.
However, she said, cuts to TRIO programs will preclude thousands of students from low-income backgrounds from being able to benefit from the services that the program provides to help prepare students for college.
Dozier was one of a select group of witnesses allowed to give testimony Wednesday before the U.S. House subcommittee on Labor, Health And Human Services, Education, and Related Agencies.
The hearing afforded subcommittee members the opportunity to hear about specific programs and why funding for those programs should be increased in fiscal 2013 and 2014.
Due to time constraints, Dozier—who spoke first—was limited to five minutes, and faced no serious questions regarding the effectiveness of TRIO, which has endured a series of reductions in recent years.
Dozier was not alone in her belief regarding the effectiveness of TRIO.
"The TRIO program works," said ranking member U.S. Rep. Rosa DeLauro (D-Conn.). She said, if the country is serious about wanting people to get an education to participate in the economy, that TRIO—which has had its funding reduced to 2002 levels as a result of sequestration—can ill afford additional cuts.