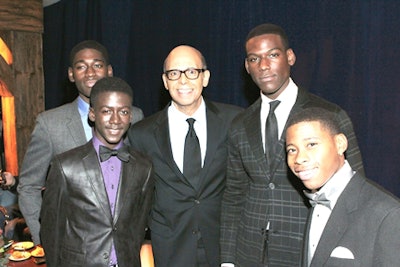 In 1989, Dr. Michael Lomax made an unsuccessful attempt to run as a mayoral candidate in Atlanta.
At that point, he had to make a decision about whether to pursue elected office again or determine if what he was attempting to accomplish as a politician could be achieved elsewhere. Motivated by a strong desire to effect change in the African-American community through education, along with an innate ability to lead, he redirected his professional conquests.
"I felt that politics, while important, is not as important as giving students the academic and educational tools to drive their own futures, so I decided to abandon politics and lead an academic institution," he says.
After a successful seven-year stint as president at Dillard, Lomax decided that he wanted to make a larger impact, and in 2004, he became president of the United Negro College Fund (UNCF).
"There is no institution in American education that has a greater impact than UNCF," he says of the organization, which serves more than 60,000 minority students on an annual basis by partnering with 38 member-colleges and providing scholarships to low-to-medium income students.
Lomax's affinity for academic success can be traced back early in life to influences such as his grandmother, who was the first to graduate college in his family.
"She was the educational enforcer in the family, and she set very high goals," he says. "There were no questions we were all going to college."
Entering Morehouse College after completing his junior year of high school, the notion of academic excellence was reinforced, along with the importance of social engagement.
Lomax recalls then-university-president Benjamin Mays speaking in chapel daily about social change, as well as a host of influential African-American men who frequented the campus, such as Dr. Martin Luther King Jr., John Lewis, the Rev. Howard Thurman and Julian Bond.
Lomax graduated Morehouse as a member of Phi Beta Kappa Fraternity Inc. and remained at the top of his class at Morehouse through his senior year. He later returned and became a professor — personifying many of the great figures who influenced his life as an undergrad.
Lomax's academic progression to receiving his doctoral degree from Emory University and passionately navigating his professional endeavors has prepared him to face one of the largest barriers for students in the 21st century — the increasing monetary burdens of higher learning.
"Financial barriers are oftentimes enormous for low-income, first-time college attenders," he says, recognizing the struggle for many of the students that UNCF helps.
"How to hobble together, annually, enough money to stay in school, in some cases, takes absolute determination," he says of students.
Still, Lomax believes that the costs of not attending college prevail.
"In the African-American community, there is an educational crisis," he says. "We are underprepared to compete in the 21st century because we don't have degrees to make us competitive in the employment and economic markets."
If an abundance of financial resources is limited for students, Lomax suggests creating a pathway to an undergraduate degree by first attending community colleges or certificate programs, but "not view a high school diploma as the final academic or technical degree."
Students should also not assume that all postsecondary education is going to be free.
"If you give a student everything, they don't feel the pressure and obligation to complete," he says. "A mountain of debt staring students in the face isn't good, but they have some responsibility to pay for education for themselves — what is reasonable and appropriate."
After receiving scholarships and assistance from his father, Lomax recalls his college loans totaling $2,500. While acknowledging that this was 45 years ago, his debt was still significant at the time, and the principle to managing it remains the same.
"If you borrow, do it very conservatively," he says. "Don't use the dollars for anything other than academic requirements, and work very hard to complete school in a timely manner. I borrowed just enough to complete; I paid it back and haven't had to borrow one dollar beyond what I borrowed in college."
Realizing that within the next decade, 60 percent of Americans will have a post-secondary credential or degree, creating an aggressive job market, Lomax is optimistic in continuing to assist African-American students in becoming competitive.
But it is important to remember that as organizations like UNCF invest in young people, they must also be willing to invest in themselves.