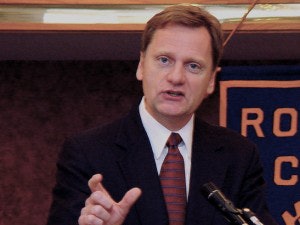 When Doug Gross was awarded a fellowship in 1976 to study at Columbia University's prestigious School of International Affairs, he thought he had been selected for the award simply because he hailed from the Hawkeye state.
But as it turns out, Lydia C. Chamberlain, an Iowa native who donated her $500,000 estate to Columbia University shortly before she died in 1920, insisted that her funds be used to endow graduate and traveling fellowships for recipients born in Iowa who were exclusively "of the Caucasian race."
"I had no idea," says Gross, in an interview with Diverse. "If I had known, I never would have accepted it."
Gross, a prominent Iowa attorney and former Republican gubernatorial candidate who faced off against then Governor Tom Vilsack in 2002, says that he fully supports Columbia's decision to petition a Manhattan Supreme Court to do away with the outdated requirement that only Whites should receive the fellowship.
"I think they ought to change it," he says. "It's ridiculous to have this kind of provision in place, and it should be eliminated right away."
Although Gross received the fellowship, he did not graduate from Columbia. He took a leave of absence and eventually dropped out, opting to earn a law degree from Drake University in 1985. For years, he served as the chief of staff to former Governor Terry Branstad before launching a failed bid against Vilsack.
In an affidavit submitted several weeks ago to the Supreme Court, Lucy Drotning, Columbia's associate provost for planning and institutional research, lent her support to the request made by the fund's administrator, JPMorgan Chase Bank, to do away with the Whites-only clause.
"Circumstances have so changed from the time when the Trust was established, that complying with the restrictions are impossible," according to Drotning's affidavit. "Columbia University is now prohibited by law and University policy from discriminating on the basis of race."
Other parameters for Chamberlain's scholarship included a stipulation that the recipient would not study law, medicine, dentistry, veterinary surgery or theology and a promise to relocate to Iowa for at least two years once they completed their studies from Columbia.
Roger Clegg, president and general counsel of the Center for Equal Opportunity, a conservative think tank headquartered in Virginia that opposes affirmative action and racial preferences, lauded Columbia's decision but says that the time is ripe for all colleges and universities across the nation to take steps to eliminate all race-based scholarships, including those set aside exclusively for racial minorities.
"In my view, racially exclusive scholarships of all kind are illegal, and I think that the overwhelming majority of schools agree," says Clegg.
In recent years, he says that he is encouraged by the steady increase of colleges and universities that have taken steps to do away with these restrictions.
"Almost always, they have agreed afterward to give consideration to members of all racial groups," he says. "That, by the way, is all we seek. We don't try to end the scholarship opportunity, but just make it available to all students regardless of race."
When a scholarship or trust is established by a private individual, it's unclear whether a university has the authority to change the guidelines. Since 1997, the Ivy League school has simply opted not to award the fellowship at all.
"Columbia long ago ceased awarding the fellowships in question and does not follow gift conditions that violate anti-discrimination laws," the university said in a statement. "It should go without saying that a university rightly known for the great diversity of its student body is as offended as anyone by the requirements of these fellowships."
The trust is currently valued at about $840,000.