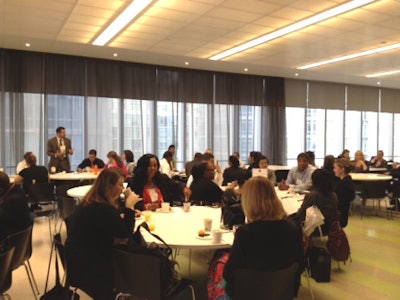 Student affairs practitioners from the Mid-Atlantic states, Puerto Rico, the U.S. Virgin Islands and Washington, D.C., gathered in New York this weekend for NASPA's Region II conference, exchanging ideas on practices and engaging in the gathering's theme 2013, "Bridging Communities, Transforming Lives."
The professional development conference, hosted by the City University of New York's John Jay College of Criminal Justice, kick-started with a pre-seminar for graduate students and early career participants and moved into roundtable discussions on Monday morning on topics such as "Parent & Family Relations," "Moving from a Middle-Level Professional to Senior Management in Student Affairs" and "Bridging the Gap for Underrepresented Minority Students' College Readiness by Open Enrollment of the International Baccalaureate Diploma Program."
N'Quavah Velazquez, a doctoral student at Lynn University in Florida, led the discussion on the latter, raising the question of whether high school IB programs are successful, even if they don't produce all IB diplomas among students. Prefacing the talk by saying that about 70 percent of college freshmen enter underprepared in some subject area, Velazquez went on to make the argument that, even if a student does not come in with the right grades for an IB class, he or she will make significant progress in the course and ultimately be better equipped for college.
"One of the things that I found was that it is really important to establish reasonable goals. Maybe a student is not up to par in the open enrollment program, but you are going to have all students grow significantly that would prepare them," Velazquez said. "I did this research with the goal of finding the ideal program for open enrollment where students, regardless of their GPA, get into IB."
However, programs that do not provide adequate support systems for students and training for teachers will fail in this, she noted. Many underrepresented students come from low-income socioeconomic backgrounds and struggle with unstable home environments. Providing advising, tutoring and social services can help them overcome these hurdles.
"Because of dysfunction in different ways — high incarceration or other socioeconomic problems — the school has to be the center of support," she said. "If they are not supported, then they can't learn. That limits their learning abilities."
Better training for instructors on dealing with students of various socioeconomic backgrounds also is key. "The observations that teachers make are often so indicative of a child's progress," Velazquez said. If professors receive training from a social worker on how to deal with certain family issues, for instance, he or she will be able to guide the student and help him or her focus on schoolwork. Getting the community involved is also important, she noted. "Students have to see that there are people who look like them that are in these classes and that it's not just for 'geeks.' "
"How does a new majority affect the way we teach?" Velazquez asked, referring to an ever-increasing majority-minority student population. A State University of New York, Purchase, administrator noted that his institutions has seen significant gains in retention among minority students after it put in place robust support services about eight years ago.
"It's not a one-size-fits-all approach," said Velazquez, who is a former high-school chemistry teacher.
She recounted one particular experience that had a great impact on her current research. One day, she took the students in the regular chemistry track into the IB chemistry lab and showed them how to make rubber. They were so in awe of the experiment and retained much more information from the hands-on experience.
"There's a lot of money that follows students who enter in IB programs," she said, adding that all students should have access to that sort of learning environment. While the open-enrollment IB program model is not perfect, she noted it has been working in about 40 schools across the United States.
"We've got to anticipate what tomorrow's needs are going to be," she said of changing demographics in higher education.