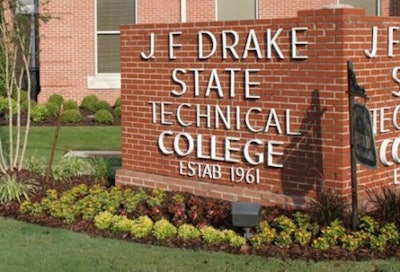 Alabama A&M University and J.F. Drake State Technical College, both historically Black institutions in Huntsville, Ala., have long collaborated as academic partners. Drake has been a reliable source of transfer students for Alabama A&M University, according to officials at both schools.
Recently, the schools have entered into a "reverse transfer credit agreement," which will enable students who have taken courses at J.F. Drake to earn their associate degree after having transferred to Alabama A&M. The agreement allows credits earned at Alabama A&M to count toward the J.F. Drake associate degree, officials say.
"This is a wonderful opportunity to encourage students to complete their associate degree. It just makes sense," says Venita Clisby King, the AAMU assistant vice president for enrollment management and director of admissions.
"It's a win-win for both institutions," she added.
To be eligible for the program, which takes effect this fall, students must have completed 12 college semester hours at J.F. Drake and at least three credit hours at AAMU, with J.F. Drake designated as the last school attended, according to the agreement.
King said it's expected that non-traditional, working adult students will largely be the target of the reverse transfer credit agreement. "That's the market your community colleges are attracting" she said.
A key idea driving the AAMU-Drake and other such agreements lies with the notion that students are said to reap a psychological boost upon associate degree completion and that success often encourages them to complete their bachelor's degree. It's also been a common experience of many students to transfer from two-year schools to four-year institutions and fail to earn a degree from either.
The Georgetown Center for Education and the Workforce (CEW) has documented that 36 million Americans, more than 20 percent of the working adult population, have enrolled in college but have not completed a degree. Of that group, 12 million to 17 million are estimated to have completed more than 60 credit hours but received no recognition of their learning in the form of a degree or credential, according to CEW.
"We recognized that oftentimes when a non-traditional student finds himself or herself transferring, or working hard on that associate degree, life sometimes gets in the way. And after all that schooling, they did not have a degree," King explained.
Dr. Patricia Sims, the dean of instructional and student services at J.F. Drake State Technical College, said that, in addition to the AAMU and J.F. Drake agreement, her school, in May, entered into a reverse transfer credit agreement with Athens State University, which is based in nearby Athens, Ala.
J.F. Drake administrators made a priority out of putting reverse transfer credit programs into action early in the 2012-13 school year, Sims said. She noted that part of the J.F. Drake's rationale comes from the school positioning itself to get credit for the work that it does in getting students transfer-ready for four-year institutions.
The state of Alabama is putting more emphasis on institutions doing what they can to help students graduate and earn degrees, Sims said.
"We're shifting the focus to completion. … In order for us to try to capture some of those students and get credit for the work that we're doing, it made sense for us to go into a reverse transfer agreement," she noted.
A recent Century Foundation report on improving community colleges, Bridging the Higher Education Divide: Strengthening Community Colleges and Restoring the American Dream, has urged state education systems to "explore and scale up consistent approaches to awarding associate degrees to students who transfer from community colleges to universities, in order to fairly credit community colleges for their work in preparing transfer students and help individuals by providing them a postsecondary credential with proven currency in the labor market."
Richard Kahlenberg, the executive director of the Century Foundation task force that produced the Bridging the Higher Education Divide report, said one reason why reverse transfer credit initiatives are important is because "we know there are important labor market rewards for students with an associate degree."