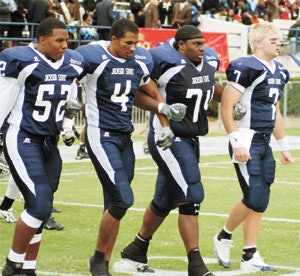 Jackson, Miss.—The Jackson State University homecoming weekend could have been a bust since the team's opponents, Grambling University, didn't show up. But, due to last-minute scrambling by JSU officials to entertain the thousands of disappointed ticket-holders, the show went on. For many fans, homecoming turned out to be a blast.
The university announced refunds would be given to those who request them via the university website; a Friday night concert by hit recording artist Charlie Wilson was sold out; and the JSU players took the field for a free-to-the-public "blue and white" scrimmage game followed by a free concert. The stands were half empty, but the crowd, including a contingent of loyal tailgaters, seemed to make the best of it.
Most Grambling players staged a protest last week, boycotting practices and refusing to board the bus. The Southwest Athletic Association ruled the no-show a forfeit, and hit Grambling with a $20,000 fine, according to a weekend news release. The SWAC statement also said Grambling's forfeit marked the first time in SWAC history that a member forfeited a game during the regular season.
Some fans were happy that Jackson State held some events despite the game cancellation. "It's unfortunate that Grambling didn't come, but I wasn't upset," said Ashley Profit of nearby Canton, Miss., a 2010 graduate of JSU and a current doctoral student in clinical psychology, as she walked toward the stadium from her car Saturday afternoon. "I appreciate the efforts that were made by the university to have some type of activity—people traveled, stayed in hotels, bought tickets —so people still have ways to celebrate."
Her comments were underscored by the festive atmosphere. JSU director of communications Eric Stringfellow told Diverse on Saturday about an hour before the scrimmage, "The mood is good, the parking lot is full, people are tailgating and barbecuing." He said most fans were not expressing anger toward JSU. "They realize this was something beyond our control."
A few fans did express anger, or at least annoyance, but mainly toward Grambling. "Honestly, it really can't be made up" said 2009 JSU sociology graduate Willie Criss. "People lost a lot of money. … The team wanted to make a statement and they stuck by it. I support them in their goals, because the players bring in the money."
Another JSU alum felt differently. "I think it's horrible that the Grambling team didn't come," said Pricilla Rush, a 1985 JSU business grad. "They signed a contract, and they need to be held accountable. I think their scholarships should be pulled.
"If they had legitimate concerns, they should have gone through the proper channels," added Rush.
"We're just trying to help in any way we can," said Raphael Ordaz, a JSU international student from Venezuela, who assisted in the ticket office. "It was a big problem, but I think Jackson State handled it the best way they could and tried to make people happy."
Ordaz added that people who were demanding refunds at the ticket office were referred to the website where information will be provided about obtaining their ticket money. He said most of them were satisfied with the plan.
Grambling students complained in a letter released to the media about unhealthy and unsanitary conditions, long bus rides to games, unsafe equipment and other problems. One of their main complaints was the university's decision to fire head coach Doug Williams after two games this season.
Grambling president Frank Pogue apologized to Jackson State for the cancellation in a statement Saturday. "We have had our financial challenges this year, and unfortunately too many of our players don't understand the degree of our fiscal challenges," Pogue said. "We are sorry."
Melissa Bickham, president of the Grambling University National Alumni Association, offered support for both the school and the players on the organization's Facebook page. "We regret the football game between Grambling State University and Jackson State University was canceled. Nevertheless, we are optimistic university officials will work with the team to resolve this matter," Bickham's post stated. "Our prayers, focus and support remain with GSU. In addition, we are aware of the budgetary constraints impacting our students. Although these are tough times for the institution, tough times don't last, but strong, rich traditions do. Our association has been working with alumni across the nation to strengthen membership and fundraising efforts in service to our university and students. Moreover, we have offered our support in assisting the university's administration to address the immediate needs and concerns of our students and student athletes."
Grambling's record is 0-7, and 0-4 in the SWAC West division. Jackson State is 6-2 overall, and leads the SWAC's East Division with a 6-0 record.
Stringfellow said Jackson State, in the coming days, would assess the financial losses caused by the game cancellation and determine what steps to take.
"We're not ready to talk about lost revenue yet," Stringfellow said. "But we know we're going to take a hit financially. There's no doubt about that."