Data released this week by The College Board's Trends in Higher Education series, Education Pays 2013, Trends in Student Aid and Trends in College Pricing, reported that despite increases in college costs and decreases in financial support, investment in higher education pays off in the long run.
Tuition is on the Rise. Each year colleges raise their tuition and fees, affecting the finances of many students and their families across the nation. Despite the increases in tuition and fees, 2013-2014 was a promising year with only a 2.9 percent increase for in-state public four-year institutions, the smallest year-to-year percent increase in over 30-years. Private non-profit four-year institutions increased by 3.8 percent, only slightly lower the than previous year.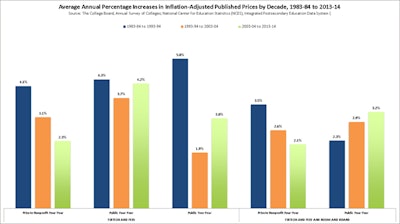 Federal Grants are diminishing. Financial support from federal grants is failing to compensate for the increase in tuition prices. In previous years as prices increased, many students benefited from comparable increases in federal grant aid and government tax benefits. However, between 2010-11 and 2012-13, federal grants have declined requiring students to actually pay more for their college.
Total Student Aid and Nonfederal Loans Used to Finance Postsecondary Education Expenses in 2012 Dollars (in Millions), 2002-03 to 2012-13
Source: The College Board, Annual Survey of Colleges; National Center for Education Statistics (NCES), Integrated Postsecondary Education Data System (IPEDS).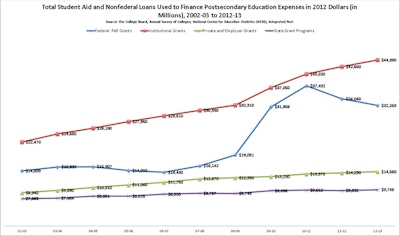 National Postsecondary Student Aid Study (NPSAS) reported in 2011-2012 that 71.4 percent of undergraduate Black or African-Americans received grants, followed by 67 percent of all American Indians and 64 percent of all Hispanics.
Percentage of undergraduates receiving selected types of financial aid, by race/ethnicity: 2011–12
Source: Diverse Issues In Higher Education analysis of NCES, IPEDS 2013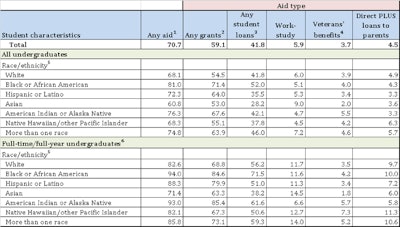 1 Includes all types of financial aid from any source except parents, friends, or relatives. Includes Direct or FFEL PLUS Loans to parents.
2 Include grants, scholarships, or tuition waivers from federal, state, institutional, or private sources, including employers.
3 Include federal, state, institutional, and private (alternative) loans. Does not include Direct or FFEL PLUS Loans to parents.
4 Include benefits to dependents.
5 Race/ethnicity was reported differently in NPSAS:08 than in NPSAS:12. In NPSAS:08, a student was permitted to specify another race which was coded to one of the federal designations. In NPSAS:12, students did not have the option to specify a different race and was prompted to select the set of options.
6 Full-time/full-year students were enrolled full time for 9 or more months from July 1, 2011 to June 30, 2012.
The report from the College Board missed one important factor – the impact of declining federal grant awards on minority and low-income students. Pell Grants are one of the largest programs directed at need-based funding for low-income students (family income below $50,000). The table below shows the distribution of Pell Grants based on race/ethnicity for the 2007-2008 academic year (NCES, 2011-218). Demographically, minority students are more likely to receive Pell Grant awards compared to their White counterparts. The College Board reported a drop in Pell Grants in 2012-13, and it is likely we will see increases in student loans and/or decreases in enrollment for minority and low-income students.
Student Loans are Increasing. The College Board reported in their Trends in Student Aid that over the last decade, federal undergraduate and graduate student loan borrowers increased by 69 percent (from 2002-03 to 2012-2013). More specifically, in 2012-2013, 43 percent of all student aid was in the form of federal loans. Over the last decade financial aid per full-time equivalent (FTE) went from $9,700 (in 2012 dollars) in 2002-03 to $14,980 in 2012-13, a 54 percent increase.
Enrollment is down. Over the last decade full-time undergraduate enrollment has increased by 28 percent, and part-time students by 19 percent; however, between fall 2011 and fall 2012 enrollment has slightly dipped by 0.2 percent. This dip might be attributed to many factors to include a better labor market, increased tuition costs, or decreased financial support.

The Aftermath: Does the Debt Pay-Off? Many students and their families have a clear concern about the escalating cost of tuition, and the long-term debt associated with it. Trends in Student Aid reported that 60 percent of students earning a bachelor's degree in 2011-2012 graduated with debt. During those same years, the average student loan debt carried by a four-year graduate is approximately $26,500. Paying that back means roughly $300 a month for a ten-year period. Does that debt really pay off? The College Boards President, David Coleman feels that it certainly does. He reported that students who get a bachelors after high school earn an extra $550,000-$600,000 over the course of their lives.