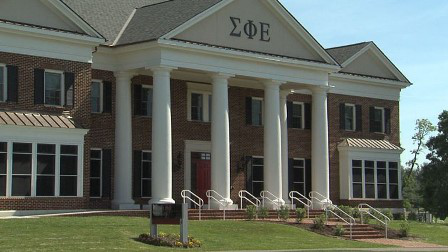 Virginia Tech's Sigma Phi Epsilon fraternity house has turned into a home for budding entrepreneur students.BLACKSBURG, Va.—A former fraternity house near the Virginia Tech campus is now the home for a group of budding entrepreneurs.
Virginia Tech invited freshmen with "entrepreneurial spirits" to apply to live in the $5 million brick mansion after the Sigma Phi Epsilon fraternity was kicked off campus in May for bad behavior.
The program is called Innovate and the plan is to fill the mansion with innovators, give them some guidance and then watch startups roll out the front door.
The Roanoke Times reports that the program has been a success in its first semester.
Shafwan Khan, a freshman biology student, is working on a nonprofit startup called AlmTree. People donate money to college students in the form of loans. Students later repay the loans to charity organizations after they graduate.
"If we're bored, it's like, 'Let's just build a startup; let's just build something; let's make the next Facebook.' It is ingrained in everyone's mind, this entire atmosphere. The fact that we're in here, makes us feel obligated to come up with something like that. That in itself introduces discussions in which people just stumble upon ideas," Khan told the newspaper.
His roommate, Jay Desai, also is working on a startup called CrowdBucket, a crowd funding platform that raises money to let people check items off their bucket lists.
Other Innovate students have spearheaded crowd funding campaigns to furnish parts of the house.
"All the unique space there has provided ample opportunity for students to collide," Frank Shushok Jr., Tech's associate vice president for student affairs, told the newspaper. "That was a really important part of this. How do you just create the structure for the collisions to occur? And I think the fraternity house has been ideal for that."
Twenty-two of the 35 freshmen in the program have been invited to stay through next school year. Other spots will be filled by new applicants.
"I'm moving to an apartment next year, but Innovate is always going to be like a family and a home to me," Desai told the newspaper. "It's not a one- or a two-year program. It's something I can always come back to and talk with people and enjoy."
Every student in the program is enrolled in a course with Marc Junkunc, a Virginia Tech entrepreneurship professor.
"Like a fraternity, they have many, many members everywhere out doing things. So our goal or our thought is that someday you'll hear about successful entrepreneurs in the world and you'll hear that person was in Innovate at Virginia Tech and now they're running this big company," Junkunc told the newspaper. "We see the seeds being planted now, but we're going to see in the future all these products of Innovate and they'll be out there. There will be a network and they'll all be able to work together."