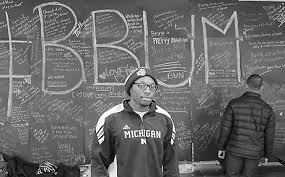 The Black Student Union kicked off a social media campaign last fall at the University of Michigan that highlighted the concerns of African-American students about race relations at the predominantly White institution. The group took the consistently trending discussion to another level this week when it presented a list of demands to the school's Board of Regents.
The social media discussion, Twitter hashtag #BBUM (Being Black at the University of Michigan), has sparked a nationwide debate.
The demands list was presented by Robert Greenfield IV, treasurer of the BSU and a double major junior, along with Eric Gavin and Shayla Scales, double major seniors.
Greenfield addressed the UM Board of Regents, "I assure you I am only a messenger and not an amplifier for every single person that felt as if they did not belong here on campus, despite their acceptance letter saying otherwise." The 4.6 percent African-American student population among more than 43,000 at UM reflects the lack of emphasis on the recruitment and retention of Black students according to Greenfield.
"I assure you that any one person who feels frustrated or downtrodden because of unfulfilled promises or lack of oversight over policy geared toward social climate is only frustrated because they possess a desire for equality that is so strong not even a blow of unaccountability can burn the fight for equality," Greenfield added.
According to the BSU, the goal of the demands list is to elevate the visibility of students of color on the UM campus and to prioritize the social standing of students of color.
The demands are as follows:
1. We demand the University give us an equal opportunity to implement change, the type of change that can only be completed with a full restoration of The Black Student Union's purchasing power through an increased budget.
2. We demand the University give us available housing on central campus for those of lower socio-economic status at a rate in which students can afford to be a part of university life, and not just on the periphery.
3. We demand for an opportunity to congregate and share our experiences in a new Trotter Multicultural Center located on central campus.
4. We demand an opportunity to educate and be educated about America's historical treatment and marginalization of groups of color through race/ethnicity requirements throughout all schools and colleges within the university.
5. We demand for an equal opportunity to succeed with emergency scholarships for Black students in need of financial support to eliminate the mental anxiety of not being able to focus on and afford the university's academic life.
6. We demand for increased disclosure of all documents within the Bentley Library. There should be transparency about the University and its past dealing with race relations. Lastly and most importantly:
7. We demand an increase in Black representation on this campus equal to 10%.
There has been no indication as to when the Board of Regents will respond.