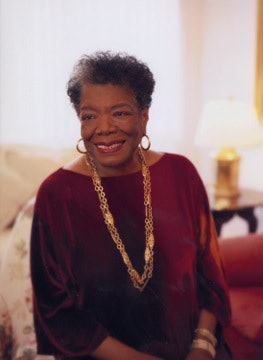 INDIANAPOLIS — With grace and elegance, Dr. Maya Angelou did it all.
She was the last of a generation of artists whose life work was deeply connected to a commitment toward social justice. A gifted author best known for her poetry, she was also a pioneering actress, singer and dancer, all the while remaining a staunch advocate for civil rights.
But for the hundreds of young people who passed through her class at Wake Forest University where she was the Reynolds Professor of American Studies for many years, Angelou was a mesmerizing teacher who pushed them to become agents for social change.
Yesterday, they, and indeed the world, paused to mourn the literary giant who died at the age of 86, having left behind a body of work that includes I Know Why the Caged Bird Sings and Phenomenal Woman.
In Indianapolis, where thousands gathered for the 27th annual National Conference on Race and Ethnicity in American Higher Education (NCORE), news of Angelou's death was greeted with profound sadness.
At the opening session of NCORE, Dr. Marc Lamont Hill, a professor of education at Columbia University's Teachers College, paid homage to Angelou during his keynote address. "Yet another elder has become an ancestor," he told the packed audience that filled the ballroom. Recounting the recent deaths of Dr. Vincent Harding and others, he added: "We've lost so many and so much."
"I think she will go down in history as one of the greatest minds in Black American culture," said Cornell Craig, director of multicultural affairs and diversity programs at Pace University.
"I just think it's a great loss," added Aaron Witherspoon, an academic success specialist at the University of Dayton. "I just hope that everything that she did will last way past her lifetime."
Anti-racist author and lecturer Tim Wise who is also at NCORE said that Angelou's influence and reach was intergenerational. "A lot of young people's first introduction to race and gender issues came through reading Maya Angelou," said Wise, who did not know Angelou personally but positioned her alongside James Baldwin as one of the nation's most iconic writers.
He said that attempts over the years by some to ban Angelou's work are evidence that her message was powerful and transformative.
At Wake Forest, where Angelou taught since 1992, Dr. Nathan Hatch, the institution's president, said that a memorial service will be held on campus at a later date.
"Maya Angelou has been a towering figure at Wake Forest and in American culture. She had a profound influence in civil rights and racial reconciliation," he said. "We will miss profoundly her lyrical voice and always-keen insights."
Meanwhile, other high-profile academicians took to social media to honor Angelou. MSNBC host Melissa Harris-Perry tweeted: "My dear dear mentor who saw me through so much. Who will light our path without you? Rest in Peace Dr Angelou." In a 2011 interview with Diverse, Harris-Perry said that Angelou was one of her mentors during her years as a student at Wake Forest. This summer, she is returning to her alma mater as a distinguished professor.
From trauma to triumph
Born Marguerite Ann Johnson on April 4, 1928 in St. Louis, Angelou grew up in the racially segregated town of Stamps, Arkansas. She later said that she took up writing after she was raped by her mother's boyfriend. He was later beaten to death by a mob after she testified in court against him.
"My 7-and-a-half-year-old logic deduced that my voice had killed him, so I stopped speaking for almost six years," she later wrote.
She spent her early years studying dance and drama in San Francisco but dropped out of school at the age of 14. She later returned to high school to finish her diploma and gave birth to a son a few weeks after graduation. While waiting tables to support her son, she acquired a passion for music and dance at the age of 17 and toured Europe in the mid-1950s in the opera production "Porgy and Bess." In 1957, she recorded her first album, "Miss Calypso." She also starred in movies such as Roots and became one of the first Black female film directors.
Fluent in six languages, she was a renaissance woman who worked as a newspaper editor in Egypt and Ghana in the 1960s. In 2006, Diverse awarded her the John Hope Franklin award, created in 2004 to pay tribute to the late Dr. Franklin, a pioneering historian, scholar and social activist.
In 2010, President Barack Obama awarded Angelou the Medal of Freedom, the country's highest civilian honor.
Last year, at the age of 85, Angelou published her seventh autobiography, Mom & Me & Mom.
Civil rights leader and MSNBC host Rev. Al Sharpton said that Angelou was the quintessential figure of the 20th century art and human rights movements. "Not only was she a literary icon, she was one of the few that turned her words into action. Although she participated in civil rights rallies, she challenged leaders of the civil rights movement to embrace the struggle of others and a broader view of freedom fighting. She challenged misogyny in the movement and was our poet, conscience, teacher and corrector. She was one of the few people whose presence you felt in the room even if she didn't say a word. Her spirit was incomparable."
Historian Dr. Peniel E. Joseph, who is the founding director of the Center for the Study of Race and Democracy at Tufts University, said that as Angelou became more mainstream, the "political part of her biography got more muffled the more popular she got."
Still, Joseph said that "she was very much on the cutting edge of an early sort of a Pan-Africanist, cultural politics that spans all the way from America to Africa," he added. "She lived a remarkable life; an important life."
Diverse reporter Catherine Morris contributed to this article.