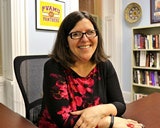 Here's a little known fact: if you are trying to reduce your state's higher education appropriations, and you immediately look to the Historically Black Colleges and Universities in your state as places to cut or eliminate, that's the definition of systemic racism.
On May 29, 2014, the North Carolina senate debated a plan that would require the Board of Governors of The University of North Carolina System to study "the feasibility of dissolving any constituent institution whose fall full-time equivalent student enrollment declined by more than twenty percent (20%) between the 2010-2011 fiscal year and the 2013-2014 fiscal year" and to develop a plan for its dissolution. One of the state's HBCUs ― Elizabeth City State University ― was on the potential chopping block due to recent drops in enrollment until May 30 when the Senate changed its mind due to outrage.
This proposal was the latest effort by Republican leaders to cut costs across the UNC system. In 2013, Governor Pat McCrory suggested merging or closing HBCU campuses as well as eliminating academic programs to cut spending in the state. McCrory angered HBCU leaders and alumni who worried that this talk was the beginning of a slippery slope ending in the closing of North Carolina's HBCUs ― institutions that have disproportionately educated low-income and often underprepared students.
Along with William Boland, I published a report in April 2014 that included data on the performance and funding of North Carolina's HBCUs. We found, using both state and federal data, that North Carolina's five public HBCUs awarded 3,706 degrees to African-American students. This was far more than the total amount for all Predominantly White Institutions in the state (2,507). North Carolina's five public HBCUs conferred 60% of bachelor's degrees from public institutions to African-Americans in the state. Given the very important role that these public HBCUs play, why would you eliminate one of them? Moreover, all four-year public institutions experienced enrollment gains between 2001 and 2011 in North Carolina. Interestingly, overall HBCU enrollment grew by 42%, compared to 27% at Predominately White Institutions. The Black student population, in particular, increased by 39% in North Carolina HBCUs. Once again, given the important role that HBCUs are playing, why would you suggest eliminating one of them?
Our report also found that in North Carolina per full-time enrolled (FTE) student funding is revelatory for detecting discrepancies in funding levels. Though the state's HBCUs enjoy higher funding levels than HBCUs in Alabama, Louisiana, or Mississippi, the highest per FTE HBCU (Winston-Salem University at $10,618 in 2011) is still nearly half that of UNC Chapel Hill ($17,992) and North Carolina State University ($15,558). How are North Carolina's HBCUs supposed to compete in terms of enrollment, retention, and graduation when they are not given a level playing field on which to play?
Rather than consider eliminating an institution that has at the heart of its mission the education of low-income, African-American students, why not invest wholeheartedly in this institution and all of North Carolina's HBCUs and abolish historic and current discrimination in state funding? I think that somehow the legislators of North Carolina have forgotten what their constituents look like; 35% of the state's citizens are people of color and that percentage is growing rapidly. Moreover, it doesn't seem that the legislators are listening to the radio, watching the news, or reading a newspaper ― the United States is on its way to becoming a majority minority. States such as North Carolina should step up and be out in front when it comes to educating racial and ethnic minorities and supporting the institutions that do the lion's share of that work rather than standing at the back of the line.
Dr. Marybeth Gasman is a professor of higher education at the University of Pennsylvania Graduate School of Education and director of the Penn Center for Minority-Serving Institutions.