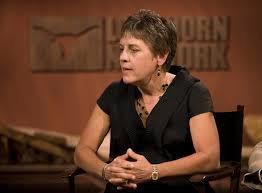 OAKLAND, Calif. ― The NCAA began making its case for keeping the current model for college sports, with the women's athletic director at the University of Texas testifying Tuesday that paying basketball and football players would tear apart the very foundation the school's athletics are based upon.
Christine Plonsky said she couldn't imagine a scenario where some of her university's athletes were able to make money from their appearances in televised games, at the same time hundreds of athletes in other sports only get tuition and room and board for their efforts.
"I don't believe that our university would approve of an activity where a segment of our student-athlete population was professionalized," Plonsky said. "I know we strongly believe our student-athletes should not be professionalized in any way."
Taking the stand after six days of witnesses called by plaintiffs in the antitrust trial brought by former UCLA basketball star Ed O'Bannon and others, Plonsky said Texas regards athletes as students first, even for those in the high-profile football and basketball programs that bring in tens of millions of dollars a year.
"They are students and they compete on teams. Students do a variety of things on campuses like UT and others," she said, adding later: "The progress toward a degree is emphasized as much as excellence on the playing field."
Plonsky's testimony came after a Drexel University professor and author of a book on the influence of money on college sports gave the opposite viewpoint on the stand, saying the NCAA's contention that athletes in big money sports are students first is self-serving and designed only to perpetuate a myth of amateurism.
"The NCAA makes the assertion there can be this large college sport enterprise which can be run professionally and engender commercial interest and that can be professional, but the participating cannot," Ellen Staurowsky said. "That hinges on whether athletes are students first or second. The emphasis is really on their role as an athlete, secondarily the student role."
Staurowsky said there is a big difference between how the NCAA defines amateurism and what amateurism really is. She said that the organization's definition of amateurism has shifted over recent years as billions of dollars have been poured into college sports.
"The NCAA is not expressly opposed to pay, but opposed to pay under terms and conditions they do not allow," Staurowsky said.
The testimony came as the trial that could fundamentally change the way big college sports are operated neared its midpoint in federal court. O'Bannon and 19 other plaintiffs are seeking an injunction that would allow players to band together to sell the rights to their names, images and likenesses (NILs) for use on television broadcasts and in video games.
NCAA President Mark Emmert is expected to testify beginning Thursday in a widely watched case that is already credited with pushing the five major college conferences toward paying athletes more money and offering them better benefits.
Plonsky said Texas—which would be one of the schools offering athletes more money under the plan for the biggest five conferences to increase benefits—would almost surely draw the line at paying football and basketball players a portion of its broadcast revenue for the rights to their NILs.
Asked what would happen if Texas refused to pay while others did, she said the entire college athletic environment could change.
"I don't believe institutions could continue to function in the same manner that they do today with that decision," Plonsky said.
Under cross examination, Plonsky acknowledged that Texas pays its coaches millions of dollars and that only 3 percent of the $165 million in revenue brought in by the university's athletic programs last year went to pay for athletic scholarships.