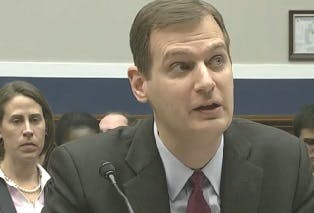 Michael Dannenberg, director of higher education and education finance policy at The Education Trust and a co-author of the report, said not enough attention is paid to institutions that "perform at very poor levels."An estimated 600,000 college students attend four-year institutions whose six-year graduation rates fall below 15 percent and at which three out of 10 students incurring student loan debt will eventually be unable to repay their loans, reports The Education Trust advocacy organization in a study released Wednesday.
In "Tough Love: Bottom-Line Quality Standards for Colleges," Education Trust researchers take aim at four-year institutions falling within the bottom 5 percent of colleges on student success metrics of graduation and student loan repayment rates. The report presents a comprehensive plan that recommends the federal government use student aid and tax benefits as levers to spur underperforming schools to improve graduation rates and loan repayment performance.
In addition, a segment of elite and wealthy institutions that enroll very few low-income and working-class students comes under scrutiny in the report and the plan recommends federal measures focused on prodding such institutions into enrolling higher numbers of economically disadvantaged students.
In all, The Education Trust estimates that $15 billion in federal student aid funding is distributed annually to roughly 300 institutions that do not serve students well. These four-year schools fall within a bottom 5 percent national ranking of schools for the enrollment of low-income and working-class students; for graduating the students they serve; and for enrolling students who leave college with manageable debt.
"We don't spend enough time and attention to institutions that are not only underperforming their peers … with similar characteristics but grossly underperform their peers and perform at very poor levels," said Michael Dannenberg, director of higher education and education finance policy at The Education Trust and a co-author of the report.
Dannenberg explained that, with the federal government's $180 billon annual support of U.S. higher education, there is "virtually no consideration of institutional performance on access, success, or student loan repayment measures" with regard to how individual schools are allocated funding.
"Students who are receiving federal financial aid to get a college education should, at the very least, be guaranteed that their school meets minimum performance standards. And taxpayers providing generous financial aid and tax benefits to elite institutions, ranging from Yale to the University of Virginia, should be guaranteed that these institutions are working to correct socioeconomic inequities, rather than calcify them," he said.
Dannenberg noted that The Education Trust's report, along with its proposals, can be seen as complementary to the current efforts by the Obama administration to devise a college ratings system and to link financial aid benefits to those ratings. "We support the President's college rating proposal in concept. What the administration wants to do is to rate every individual college, and figuring how to do that accurately and fairly is a time-consuming and difficult process," Dannenberg said.
"In the meantime we think it's much easier to identify institutions at the extremes of quality—the best and the worst" and to develop a system that establishes minimum standards for institutional performance on college access, graduation, and student loan repayment, he explained. Schools would have to surpass the standards over a period of several years or face punitive measures.
Schools repeatedly deemed as low-access institutions, or "Engines of Inequality," would be subject to losing institutional grant and tax benefits, including tax-exempt bonds to nonprofits and the charitable interest deduction to both the institution and affiliated foundations. The low-graduation schools, or "College Dropout Factories," and the low-loan repayment institutions, or "Diploma Mills," could lose institutional grant and tax benefits as well as eligibility to receive federal student aid, including grant, loan and tax aid, according to the report.
Mary Nguyen Barry, an Education Trust higher education policy analyst and report co-author, told Diverse that The Education Trust plan recognizes that many open access public colleges and Minority-Serving Institutions labor under difficult circumstances as they serve disproportionately high populations of low-income and working-class students.
"When we look at the data there are high performers and low performers, regardless of student demographics. When we look at similar institutions serving similar students, we see a range of performance," she said. "While some institutions might fall under our proposed benchmarks, at the core of our proposal we're calling for federal monitoring and technical assistance to really help these institutions improve and surpass those benchmarks."