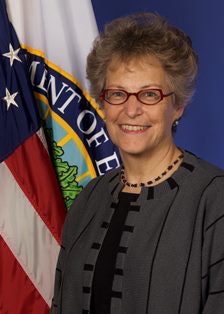 When the president and first lady recently arrived by helicopter at the Standing Rock Sioux Reservation in Cannon Ball, North Dakota, they made history. President Barack Obama is the third sitting U.S. president to visit an Indian reservation in the past eight decades. The Obamas took part in a Flag Day ceremony and met with Dakota and Lakota nation youth during their June 13 visit.
Addressing the crowd, Obama promised a renewed commitment to American Indian interests, with a particular focus on education.
"Let's put our minds together to improve our schools, because our children deserve a world-class education, too, that prepares them for colleges and careers. And that means returning control of Indian education to tribal nations with additional resources and support so that you can direct your children's education and reform," said Obama.
In concert with the president's visit, the Department of the Interior released a statement on a new plan to improve educational outcomes for Bureau of Indian Education-funded schools on June 13.
Statistics show that the current system is failing American Indian/Alaskan Native (AI/AN) students, who lag behind other demographic groups. According to the National Center for Education Statistics, the average public high school graduation rate for all U.S. students has grown from 75 percent in 2007-08 to 81 percent in 2011-12. But for AI/ANs, the graduation rate only increased from 64 to 68 percent over the same period.
As students fall behind in high school, it is only a natural consequence that higher education would also elude them. Living on remote, rural reservations, college and universities are for the most part inaccessible to students constrained by low incomes.
Yet one solution to the relative isolation of AI/AN reservations already has been provided by the tribes themselves. A movement to develop tribal colleges and universities (TCUs) on or close to reservations gained strength in the 1960s and '70s. Today, there are 32 fully accredited TCUs across the nation, offering accredited degrees, remedial learning and vocational training to AI/AN and non-AI/AN students alike.
Despite the great need and utility of such institutions, TCUs struggle with funding issues. Congress has authorized TCUs to receive $8,000 per AI/AN student, but most receive only $5,850 per student. By point of comparison, the federal government grants Howard University close to $22,000 per student, or $200 million annually, exclusive of the medical school.
At a Senate Committee on Indian Affairs hearing, "Indian Education Series: Examining Higher Education for American Indian Students," Jamienne Studley, U.S. deputy under secretary of education, testified on the U.S. Department of Education's efforts to expand educational opportunities for AI/AN students on June 11. When Senator Jon Tester, D-Mont., raised concerns about funding shortfalls at TCUs, Studley said that Pell allocations to AI/AN students make up some of the difference and that all institutions of higher learning face disparities in funding.
"We clearly would like to increase support for education across the board and increase our investment in a wide range of institutions," said Studley. "What we'd like to do is improve the resources and ability to support education at all of these schools including, certainly, the ones attended by AI/AN students."
While policymakers discuss the framework of reform in Washington, the effects of limited funding are borne out on TCU campuses across the nation. Just two miles west of Standing Rock's town center, the scene of Obama's visit, is Sitting Bull College. From its origins in 1973 with three full-time staff, Sitting Bull has grown to include a campus and a stable population of around 300 students.
Further growth depends on grant funding. The college lacks a cafeteria and wellness center. The trade building is full to capacity, leaving no room to expand to incorporate additional job training for the booming oil and gas field industry of North Dakota.
Dr. Koreen Ressler, vice president of academics at Sitting Bull, says the college gets around $5,800 per student a year, never seeing the full $8,000 they were entitled. "They put it in the bill each year, but then because of cuts, we never end up seeing that amount of money," she said.
Conservative budgeting has sustained Sitting Bull thus far, though that results in infrequent raises for the faculty and low salaries. "We have graduates going out and working for the tribe and making a lot more money than our Ph.D. faculty are making," said Ressler.
Blackfeet Community College in Browning, Montana, faces infrastructure and funding challenges similar to those at Sitting Bull. The college currently offers courses specific to workforce needs in the tribal community and offers two-year degrees. "We need to be a four-year college, but without the dollars, this is all we can offer," said Dr. Billie Jo Kipp, president of BFCC.
Kipp said that teaching salaries range between $23,000-29,000 at BFCC. "Our faculty deserve better," she said, adding that some of the school employees are paid so little they qualify for food stamps.
While Kipp said she would "welcome" reform to BIE-funded schools, reform is largely symbolic until it is tied to more federal funding. "We've been down this road before," she said. "What reform usually means for BIE schools is they have more paperwork to do, but it's not tied to any more funding."
"Every tribal college has their problems with not enough funding. It would be nice if we could get $8,000, but I realize that they have a process they have to go through with Congress. So our $5,850 that we get per Native student, we just do the best that we can with it," said Clarice Morsette, dean of student services at Stone Child College in Box Elder, Montana.
Catherine Morris can be reached at [email protected].