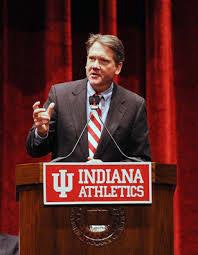 BLOOMINGTON, Ind. ― Indiana University plans to immediately begin guaranteeing four-year scholarships to athletes and will agree not to reduce the amount of money students on partial scholarship receive year to year based on illness, injury or ability, athletic director Fred Glass said Friday.
The changes are part of a plan announced by the school that Glass calls a "student-athlete bill of rights." It will include significant financial support to former athletes who wish to return to finish their degrees and increased health care commitments, he said.
Glass said in an interview with The Associated Press that the changes were not in response to the lawsuit by former UCLA basketball star Ed O'Bannon and others over the NCAA's use of their images in broadcasts and video games without compensation or the push by former Northwestern quarterback Kain Colter to form the first union for college athletes.
"But we're all products of our environments and I think rightfully there's more attention being placed on what benefits do these student-athletes get for the recognition and attention they generate for a university. So I can't tell you that if all this wasn't going on we would have done this. Maybe it wouldn't have been on our radar screen," he said. "But I can tell you it wasn't a reaction to any one thing."
Earlier this week, the Big Ten said it supports guaranteed four-year scholarships and improved medical coverage for its athletes. In 2012, NCAA members voted to allow Division I schools to offer scholarships guaranteed for more than one year.
The IU plans improved medical coverage, including paying for physicals for walk-ons, and covering the full cost of education with its full scholarships as well as providing certain NCAA-approved extras, including a personal iPad and a blazer for formal occasions.
The plan announced by IU, which was first reported by The Indianapolis Star, introduces what Glass calls the "Hoosiers for Life" program, that calls for the school to pay the tuition plus books and fees for an undergraduate degree for any scholarship student was eligible at least two season and who leaves school early to tend to a family emergency, pursue a professional career or for any other reason.
Glass said he doesn't know how much the program would cost, but said it would likely cost hundreds of thousand dollars a year.
"I think this is the cornerstone of the whole program. A lot of people in the reform area talk about education trust, that we ought to make sure kids graduate and don't fall by the wayside. There's been a lot of conversation about this," he said.
He said the university likely will try to raise funds and create an endowment to pay for that program.