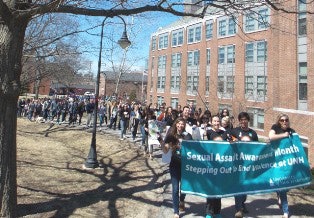 There were 30 Title IX complaints in 2013 against U.S. colleges concerning their mishandling of sexual assault cases and 55 in the first half of 2014. With the additional coverage when President Obama established the White House Task Force to Protect Students from Sexual Assault this past January, the issue of sexual assault already has seen an unprecedented amount of attention this year.
"I've seen so many students attach their name to a case of sexual violence, whereas in the past students would maybe identify as Jane Doe," says Alison Kiss, executive director for The Clery Center for Security on Campus. "Students are saying, 'I really want to see changes on my campus for other students and change across the country.'
"The White House is paying attention to students and consulting with advocates and professionals in higher education across the country," Kiss continues. "Its first report really provided some concrete examples of things that schools can do to identify what they have now and how to change the culture and climate on campus."
Released in late April, the report, titled "Not Alone," recommends steps to improve the federal government's existing efforts and policies going forward; best practices for preventing sexual assault; and that colleges implement campus climate surveys on the issue. It also explains how to respond effectively when a victim comes forward.
"What I think the task force adds to the conversation is that it provides more guidance and provides more resources to campuses," says Holly Rider-Milkovich, director of the University of Michigan's Sexual Assault Prevention and Awareness Center. "We have heard from this administration that enforcement of the laws that currently exist is a priority. [So I think the task force] has refocused institutions or has led institutions for the first time to address this issue in a comprehensive fashion."
Partnering with universities
The report notes that three universities have committed to developing research projects that will help find new solutions in addressing campus sexual assault. Among the universities cited is the University of New Hampshire's Prevention Innovations, which will design and evaluate a training program for incoming students on sexual assault policies and expectations for conduct.
While flattered that the university has received recognition for its leadership in the field, Amy Culp, interim director and direct services coordinator at the University of New Hampshire's Sexual Harassment & Rape Prevention Program (SHARPP) center, says that this renewed call is long overdue, as it has long been known that women ages 16 to 24 are at the highest risk for sexual assault and one in five women is assaulted while in college.
By having its peer advocacy program credited as a course and in building a much more community-based support center that works with direct services, education and outreach, Culp believes UNH has stood out among the crowd and been more effective. Though the task force has launched a website called NotAlone.gov to assist universities in further developing its programs, Culp says she'd like to see model set-ups on the site.
"The website is a good start and should be a 'work in progress,' as the discussions about these issues continue," she says. "I would like to see the website show some 'model' colleges and university programs as resources."
On the homepage, visitors are offered sections for resources, data, students and schools. Legal guidance and explanations of FERPA, the Clery Act and Title IX are all delineated there, along with the premises of confidentiality and a guide to drafting sexual assault policy.
"Like the task force, [this website] is a first step," says Rider-Milkovich. "They worked in a dramatically short time frame to deliver some absolutely critical guidance and support and recommendations to colleges and universities. As an administrator, I find NotAlone.gov to be useful. I expect that down the road there may be model policy language, even more specific guidance."
According to Kiss, guidance is what most schools need right now.
"My concern is how well are colleges and universities versed on the elements of existing laws," she says. "From where I sit, we see challenges to implementing the Clery Act. Also, the new Violence Against Women amendment to the Clery Act — campuses have to start thinking about that this year."
After looking at program reviews from the Department of Education, Kiss says when complaints are filed for violation of the Clery Act, there should be policy statements about responding to sexual violence. In addition, many administrators of the Clery Act don't have the support they need, making their job nearly impossible.
"If they are not getting buy-in from the leadership, then it makes their job very challenging from the get-go," notes Kiss.
Support varies from campus to campus, but Kiss stresses that clarifying and bolstering resources for existing laws is necessary before any new initiatives come forth from Washington.
"I think a lot of campuses are trying to make sense of the Clery Act and Title IX," says Kiss.
Legislative talk
Emboldened by the Obama administration's efforts, Sen. Claire McCaskill, D-Mo., held a roundtable discussion on sexual violence on campus in May, in which the Clery Act was one of many topics touched on. Culp, one of the panelists for the discussion, along with Police Chief Dave Kurz, whose department works with UNH's crisis and support centers, notes that McCaskill's efforts on the issue are doing a great deal to raise awareness. In fact, another roundtable is scheduled for later this month.
"I know she brings a lot of passion and expertise to the issue of sexual assault," says Rider-Milkovich of McCaskill. "I appreciate so much that she has started bringing together experts that are on campus as well as off campus to talk about the issues [and] to identify where legislation might be appropriate or be more effective."
Among the schools highlighted as a case study by the task force and the Centers for Disease Control and Prevention, the University of Kentucky is being recognized for its Green Dot program, which works to get bystanders involved in preventing sexual assault. Hopeful that this program and others could serve as a model, Kiss notes "we need to start thinking about primary prevention, thinking about our community, thinking about our climate. Until we do that, we're not going to see much change."
Rider-Milkovich, however, points out that there are some groundbreaking pieces to the task force. The administration has sought funding for a pilot program that will explore what might be effective sanctions or treatments for college-age students who have committed some form of sexual violence. In addition, solicitations for private projects have been issued.
"I think that is visionary of the administration and demonstrates great courage in addressing this issue in a comprehensive way," says Rider-Milkovich.