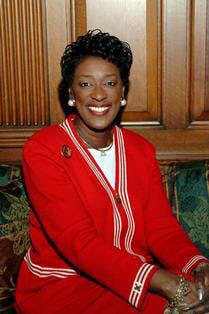 President Gwendolyn E. Boyd is attempting to guide Alabama State University through turbulent times.Though President Gwendolyn E. Boyd has only been in office at Alabama State University since January 2014, she already has encountered what might be a career's worth of institutional turmoil.
The Southern Association of Colleges and Schools placed ASU on a six-month warning period this past June, citing ASU for failing to comply with six standards. Moody's recently downgraded the university's bond rating.
Last week, Gov. Robert Bentley, the president of the university's board of trustees by virtue of his office, called for board chairman Elton Dean and vice chairman Marvin Wiggins to resign by Thursday afternoon for allegedly violating conflict of interest. Dean resigned, but Wiggins did not. The governor removed him Friday and named Ralph D. Ruggs, executive director of the Tuscaloosa Housing Authority, to serve out Wiggins' term.
This past Sunday, Donald V. Watkins, a Birmingham attorney and pro bono legal counsel for ASU, published a scathing open letter in the Montgomery Advertiser characterizing Boyd's presidency as the "university's greatest mistake." Watkins, who was involved with ASU's presidential search in the wake of Joseph Silver's resignation in 2012 after questioning some financial practices at the university, apologized for nominating Dr. Boyd.
On Monday, an article by the Advertiser reported that Wiggins had raised the issue of Boyd receiving a $1,000 monthly car allowance, yet she does not own a car. In addition, the newspaper noted that campus police drive Boyd, and the police officer who does most of the driving had more than $12,000 in overtime between Feb. 1 and June 1.
Diverse was unsuccessful in attempts Monday to reach Boyd for comment.
Watkins accused Boyd of forming an "unholy alliance" with Bentley and alienating trustees and other ASU officials. "During the past six months, I have discovered that Dr. Boyd, though a wonderfully affable woman, simply lacks the administrative skills to be president of any university," Watkins wrote.
Watkins wrote that Bentley's actions toward Dean and Wiggins were not intended to correct wrong-doings but rather send a "message" to the remaining board members, to "leave Dr. Boyd alone; she is the Governor's overseer at ASU; and she is untouchable."
Watkins characterized Bentley as a Tea Party Republican bent on destroying Alabama State University and building up the University of Alabama. "The Tea Party crowd has no affinity for African Americans," Watkins wrote. "Furthermore, Bentley has never brought a dime of funding to ASU, nor has he ever delivered a new academic program to the University. His job is to protect and serve the institutional interests of the University of Alabama, and he does it well."
Before joining ASU as president in January 2014, Boyd was an engineer and executive assistant to the chief of staff at Johns Hopkins University's Applied Physics Laboratory, where she worked for 33 years.
Retired ASU Dean Alma S. Freeman, who, according to Bentley, called for Wiggin's voluntary resignation from the board, said that the current situation was "too upsetting to talk about" when reached for comment.
At ASU, faculty and students do not share Watkins' views. "The faculty is supportive of the president's leadership," said Dr. Charlie Hardy, professor of business at ASU and chair of the Faculty Senate. Regarding Watkins' open letter, Dr. Hardy said, "That's his individual assessment. It does not represent the views of Alabama State University's core constituency, who are the faculty, staff, administration, students, and of course, alumni."
Hardy served on the presidential search committee and said that for any one individual to condemn the president so harshly was "unfortunate." "To raise a cloud of this nature at this time is extremely unfortunate," Hardy said. "We don't need to exacerbate the situation. We already have a warning."
"I too was on the search committee and saw the process. The decision was made by the search committee and subsequently the board," Hardy said. "There's no one individual who needs to go out and decide that he made the decision, he's made the mistake. It doesn't serve the university well."
Hardy, who graduated from ASU in 1962, said that he was graduated when the university lost its accreditation and suffered as a result. "I graduated with a degree that was unaccredited. I virtually had to beg my way into graduate school and prove myself. I don't want to see that happen to this particular group of young people we have matriculating at this time. We've been there before, and we don't want to return to that status."
Darren Dubose, president of the Student Government Association said that Watkins' letter did not accurately represent how students or trustees perceive Boyd. Instead, the letter merely casts a negative light on ASU at a challenging time in the institution's history. "Even if the accusations are not true there will still be a dark cloud over the university," he said.
As for how the current situation will be resolved, Dubose is putting his faith in a higher power. "It's a process that God is taking us through," he said. "The university will be fine in the end."
Catherine Morris can be reached at cmorris@cmapublishing.com