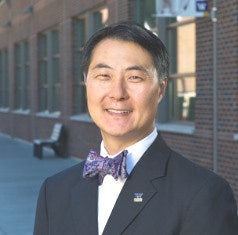 University presidents and chancellors are typically eager to discuss their institutions' programs, research and facilities when given the opportunity, and University of Washington Bothell's chancellor Bjong Wolf Yeigh is no exception. In a recent interview with Diverse, Yeigh specifically expressed excitement, even exuberance, about his first-generation college students.
He pointed out, for example, that Tyrell Edwards became the school's first Fulbright Student Scholar last year while pursuing a master's degree in cultural studies.
"Ty created a leadership conference for students from diverse backgrounds. He's also a great student and a great scholar," Yeigh says, adding that Edwards, who attended a community college before earning bachelor's and master's degrees at UW Bothell, exemplifies the university's commitment to underserved communities.
Founded in 1990, UW Bothell was designed to be interdisciplinary and to take innovative steps in building its programs, according to Yeigh, who was appointed chancellor in May 2013.
"Because we are young, at the onset [its founders] wanted it to be a very flat organization—that is, very nimble and easy to work with," says Yeigh. "People often tell me we can get things done faster and more easily here than at a lot of other institutions because the structure lends itself to being very flexible.
"What drew me to this campus was that, when I visited, I saw students who were very much like me some 30-odd years ago when I was a student," says Yeigh. "This campus is really doing something about serving underserved populations, and I was really happy to be part of that. About half of our student body are first-generation college students, and about 43 percent of our student body are students of color."
Yeigh also takes pride in the gender makeup of his faculty. "If you look at the national percentage of women in computer science, you're looking at [percentages] in the teens," he points out. "About 40 percent of our computer science faculty here at UW Bothell are women."
Moreover, its recently established School of STEM is headed by a woman, Dr. Elaine Scott, who hopes to attract more women from various backgrounds to STEM programs. "The students that apply here are not traditional 18-year-olds coming out of high school," Scott says. "They may have had challenges in their lives, some are a little bit older, some are working … and a very high percentage are first-generation college students."
In order to help STEM students succeed, Scott says she and her division chairs are discussing setting up a task force to help lower-division students who may be struggling. "We're not a weed-out school, but our standards are high, so we want to help the students as they go along." And she says, under Yeigh's leadership, new strategies are constantly being considered to bolster student retention.
In addition to diversity, another key component of Yeigh's leadership is "crosscutting" the arts and sciences to create a fully interdisciplinary institution.
"We take liberal arts programs and interface them with programs in STEM," Yeigh explains. "For example, our environmental studies program is in both liberal arts and in STEM."
Scott also points out that mechanical engineering students are now required to take an art class; the computing and software systems division is integrated with graphic arts for an interactive media design program; and engineering is combining with business, among other programs.
Just like his students, Yeigh overcame odds to get to where he is now. His mother immigrated to the United States from Korea following the death of his father. Yeigh arrived shortly after at the age of 11. In a biographical video featured on the chancellor's website, Yeigh says he learned to speak English by watching cartoons and quickly developed an interest in science and research.
A U.S. Navy veteran, Yeigh received a master's and a Ph.D. in civil engineering and operations research from Princeton University. He also has a master's in mechanical engineering from Stanford University and a bachelor's in engineering science from Dartmouth College.
Yeigh previously headed the State University of New York Institute of Technology (SUNYIT) and Norwich University in Northfield, Vermont, and held administrative positions at Saint Louis University and Yale.
UW Bothell is one of three campuses in the University of Washington system. The Bothell campus enrollment has more than doubled in the last five years and is projected to increase from 4,600 in the 2013-14 academic year to more than 5,000 in fall 2014, according to Yeigh.
"We have this unique opportunity to serve students who were disadvantaged and who were not well served in the past, and we have a critical mass of those students," he says. "How do we now provide them with first-rate educational opportunities? It's a unique opportunity and a unique challenge."