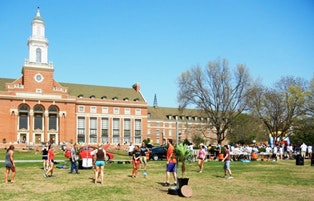 OKLAHOMA CITY ― Oklahoma State University has implemented a new online course for students to teach them how to prevent sexual assault, months after the federal government announced the school was one of 55 colleges or universities across the country facing a Title IX investigation over the handling of sexual abuse complaints.
It's mandatory for institutions to do some sort of training under Title IX, said Lee Bird, vice president for Student Affairs at OSU.
"It's designed for students. It has some videos, has information. It's visually appealing," she said.
The class takes about 45 minutes to complete, Bird said, and there is an optional question-and-answer portion about behavior changes. The free training teaches students about Title IX, including gender discrimination and sexual harassment, and informs students about how and what to report and where to go for help.
Every OSU student must complete the training before enrolling for the spring 2015 term, which occurs between October and December.
In April, the Department of Education released the names of 55 schools facing Title IX investigations. OSU was the only Oklahoma college or university on the list.
The course encourages people to be more vocal about sexual assault prevention, Bird said. "If they see something going on, to speak up. House party people drinking, whatever, if you see somebody at risk, encourage them to get out or help them."
The course is a way for the school to reach every student, she said.
"We've had fairly good feedback," she said. One male student emailed her and thanked her for drawing attention to the issue. Other students, however, expressed frustration that the government or university is telling them to do something, she said.
"This really is an effort to help educate our students on an area that is pretty tough, so that they can better protect themselves," Bird said.
Nadir Nibras is president of the men's chapter of One in Four, a student group at OSU that aims to end sexual violence through education. The name comes from the statistic that one in four college women will experience rape or attempted rape.
While Nibras, 21, said he thinks the online course is a good first step, he said there is a long way to go to changing behaviors.
"We think sexual violence is a result of, most often, a result of beliefs that are developed over a lifetime," he said. "It takes more than a 45-minute online program to change those beliefs. It's good we have a program like that, but we should do more."