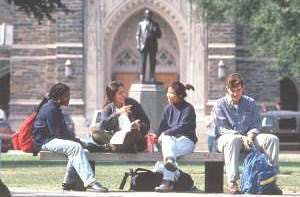 When it comes to whether the selectivity of a college has much impact on a student's likelihood of graduation, scholars are generally divided into two camps.
One camp argues that students would have a better shot at earning a degree if they avoided "undermatch" and went to more selective colleges, where the graduation rates tend to be higher, while the other camp—which includes opponents of affirmative action—argues that students have a worse chance at graduation when they fall victim to "mismatch," when students go to competitive schools where they are said to be in over their heads.
A new study published this week in the American Educational Research Journal posits that scholars in both camps are wrong. It argues that the selectivity of an institution is neither much help nor a hindrance to graduation.
"We find at best weak evidence that institutions raise, via academic selectivity, the graduation rates of students who otherwise would have lower chances of graduating," states the study, titled "College Selectivity and Degree Completion."
"At the same time, we find little support for the hypothesis that academic mismatch has a significant impact on U.S. college completion," the study states. "Put differently, from the standpoint of an individual student, choosing to enroll at a college whose average admissions test scores are substantially higher or lower does not appear to help or harm her chances of graduating."
While some scholars and even the White House have sought to end undermatch, the new study seeks to dispel any notion that more selective colleges have a "secret sauce" that somehow gets students to graduate at higher rates than they would otherwise.
"It certainly won't hurt you if you go to a more selective college," said one of the study's authors, Paul Attewell, a professor in Urban Education at the Graduate Center of the City University of New York. "But the idea that just by going to a more selective college you would hugely increase your graduation chance is not true, either."
The College Selectivity and Degree Completion study drew mixed reactions among scholars who've wrestled with the issue of how much of an impact a school's selectivity has on a student's chances of graduation.
For instance, Anthony Carnevale, director of the Georgetown Center on Education and the Workforce, said the data in the new study only adds up "to a point."
"I don't disagree with their general conclusion, which is (selectivity) matters a lot less than people think," Carnevale said.
But he said he would have to scrutinize the study more closely regarding its claim that selectivity hardly matters at all.
He said that, despite whatever new methodologies the authors used to reach their conclusion, there are some data points that the authors cannot simply "explain away."
Among those data points, Carnevale said, is an analysis that shows students who scored in the 1000 to 1100 range on the SAT graduated at a rate of 86 percent at Tier 1 schools—or the top 190 schools in the particular data set he was citing—versus just 67 percent at Tier 4 schools, or the lowest level.
Attewell said the new study uses methods to reduce "selection bias" — when biases are introduced during the process of sample selection — in order to tease out whether or not there is something about an institution or the students it admits that leads the students to graduate at higher rates.
"Possibly the people who claim that (selectivity matters) had done so because they did not do a rigorous enough statistical analysis; they did not have as many variables for student backgrounds as we have, and they didn't control for something called 'selection bias,'" Attewell said. "And when we did add those extra variables, and when we did control for selection bias, what we found was what they thought was the big effect of going to a selective college shrinks down to almost nothing."
In the study, Attewell and his colleagues — Scott Heil, Director of Analysis and Reporting at the CUNY Office of Institutional Research and Assessment and Liza Reisel, senior research fellow at the Oslo, Norway-based the Institute for Social Research — sought to deal with the problem of selection bias by controlling for the background characteristics of those who went to more selective versus less selective schools, the idea being that going to a more selective school is correlated with certain observed and unobserved personal characteristics.
In the first model, they found a "strong statistically significant relationship" between selectivity and graduation, but that was when no individual student characteristics—such as parental levels of education and income—were controlled.
Under that scenario, for every one standard deviation increase in the SAT, the graduation probability increased by 15.3 percentage points.
However, the picture begins to "change considerably," the researchers say, when individual "predictors" are added—cutting the probability of graduation based on SAT scores a third of what it was under the first model.
In the third model, which adds various institutional-level characteristics — such as whether a college is public or private, its minority composition, and the college's annual tuition cost — every standard deviation increase in the SAT increased a student's probability of graduating by 2.2 percentage points, "a quite small effect that is not significantly different from zero," the study states.
While the study found little to no effect in selectivity, it did find that higher tuition was associated with higher graduation rates—at a rate of 1.5 and 1 percent among Tier 1 and Tier 2 schools.
"This indicates that among students with a low probability to enter a more highly selective college there is a small graduation benefit to attending a more expensive college," the study states while also noting that further research is needed to figure out why.
Carnevale said it's not hard to see how money matters—but said it's still linked to the selectivity of a school.
"If you went to, say, a public non-selective where the school is spending $17,000 a year on you, then you go to a school where they spend $60,000 on you, it doesn't hold up for me that there would be no difference," Carnevale said.