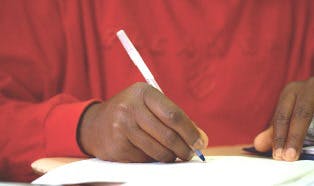 In an effort to boost college readiness and save money for students from families of lesser economic means, the U.S. Department of Education on Tuesday announced that it had awarded $28.4 million in grants to states in order to offset the cost of Advanced Placement exams.
While scholarly debate continues about the relative value of having students take AP courses and exams, one leading expert said the federal Advanced Placement Test Fee program is "admirable" and should lead to better outcomes for students from underrepresented groups.
"I think that the federal government is probably putting the money on the table because it knows that the courses are connected to helping kids prepare for college," said Joseph Hawkins, senior study director at Westat, a Capitol Region research consulting firm located in the capital region.
He said that, even if students don't achieve AP exam scores of four or five—which are the scores many colleges require in order for students to reap the benefit of college credit for the exams—"on average, it's still a better experience than for them not to have taken the class and not to have taken the exams."
"I think it's a good thing," Hawkins said.
The federal funding announced Monday is meant to close racial gaps in access to rigorous coursework aimed at preparing students for college and the workforce. For instance, an analysis of federal data suggests that, although Black and Latino students together represent 37 percent of high school graduates, only 27 percent were enrolled in at least one Advanced Placement course and just 10.2 percent had taken an AP exam.
Based on the anticipated number of tests to be taken, the U.S. Department of Education stated, the grants under the Advanced Placement Test Fee program are expected to be sufficient to pay for all except $18 of the cost of each test taken by low-income students—with states and other stakeholders left to figure out how much of the remainder of the exam cost to cover.
Without the waivers, students would pay $200 or $300 per exam, said 2014 Fishman Prize winner Michael Towne, a physics teacher at Citrus High School in Perris, Calif.
"That may not sound like a lot of money, but it is an impediment," said Towne, whose classroom was responsible for producing an additional 26 percent of the Mexican-American students who passed the AP Physics Electricity & Magnetism exam in California last year. But Towne downplayed the accomplishment, saying that the only way one classroom could be responsible for so large a gain is because not many students were taking the exams in the first place.
The federal AP fee waiver program, which channels funds to 40 states and the District of Columbia, is meant to turn things around, said Deborah S. Delisle, Assistant Secretary for Elementary and Secondary Education at the U.S. Department of Education
"When emphasis is placed on all students being ready to take AP exams by way of taking the AP course, it really makes a difference in outcomes for students in what happens to them after high school graduation," Delisle.
She noted how, since 2012, the program grants have been able to cover an increasing number of exams. In 2013, the grants helped offset the cost of 720,573 exams, which is 63,557 more than in 2012.
And in 2014, she said, the program grants offset the cost of 769,026 exams, or 48,453 more exams than in 2013.
From 2013 to 2014, the department said, the number of tests for low-income students covered by the program increased by more than 6 percent.
Delisle and others stressed the importance of teacher training—and having educators rethink their views on which students are AP material—in conjunction with the fee waivers.
But experts warn that poor implementation of AP courses can lead to poor performance on AP exams—with some, such as Denise Pope, a senior lecturer at the Stanford Graduate School of Education, going so far as to say that a poorly-implemented AP course can do more harm than good.
"I think that the score that you get certainly is partly reflecting the quality of instruction," said Hawkins, of Westat.
But he said concerns that increasing access to AP exams will drive down the overall average score for exam-takers are unfounded.
"The averages that I've watched in aggregate across the country, they seem to be pretty stable all the time," Hawkins said.
A College Board report indicates that there has actually been a 7.9 point increase in the percentage of U.S. public high school graduates scoring a three or higher—a statistic that AP advocates say runs counter to the myth that increasing access to AP exams will drive down test scores.
Research from the College Board has also shown that AP course takers tend to graduate within four years from a four-year college at higher rates than those who don't take AP courses—58 percent versus 38 percent, respectively.
However, scholars have advised that it is difficult to show "causation"—that is, to establish whether there's something about taking AP courses and exams that leads students to succeed in college at higher rates or whether college success is more attributable to the individual characteristics of the students taking AP courses and exams.