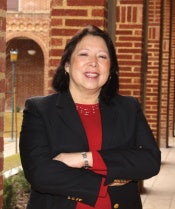 WASHINGTON — At the age of six or seven — long before she became a college chancellor — Cynthia Azari got a tough lesson in economics for migrant farm worker families such as hers.
She and her sister had just dragged a bag full of cotton that they had been picking all day to place it on the scale. A grower told them that they had only earned 85 cents for their labor. This was before, she said, child labor laws protected the children of migrant farm workers.
"That probably could buy a loaf of bread and eggs and a quart of milk, but as a child I thought: I can't do this,'" Azari said, recounting the years when she and her family lived in small shacks picking cotton and grapes in Texas and California. "There was no way I was going to work like this for the rest of my life."
Change began when Azari and her younger sister got involved during their high school years in Upward Bound — one of several college access programs known as TRIO programs that emerged from the Economic Opportunity Act of 1964 during the War on Poverty.
"It was a great program," Azari said Thursday, recalling the regular Upward Bound meetings where students would brush up on English and math, all the while earning stipends of $8 or so per week.
"Lunch was 35 cents a day, so that bought lunch for a whole week," Azari said of the stipends. "And we could go to the movies on the weekend."
Azari — a member of the inaugural class of Upward Bound participants — credited Upward Bound with teaching her about the college admissions process and college culture, things she says she never could have learned from her parents.
Her fellow peers went on to careers in engineering, medicine and law. Azari ultimately went on to become an educator. She retired recently as chancellor of Riverside City College.
Hers was one of success stories that TRIO alumni shared during a three-hour symposium Thursday meant to celebrate the 50-year anniversary of the federal TRIO programs. Most spoke of how their participation in a TRIO program helped catapult them into careers in higher education.
U.S. Secretary of Education Arne Duncan credited TRIO with playing a critical role in increasing access to college for students from diverse backgrounds.
"For five decades, young people served by TRIO have seen progress, and programs like TRIO are building a powerful pipeline of more students having access to higher education," Duncan said during the event, held in an auditorium at the U.S. Department of Education headquarters.
Funding for TRIO programs has fallen under the Obama administration from more than $904 million in fiscal 2010 to less than $840 million in recent years.
"TRIO funding is never as high as anyone in this room wished," Duncan acknowledged. He said the TRIO programs would continue to play in a role in college access but added that the administration was looking to scale "what works" — a view consistent with the administration's emphasis on competitive grant funding.
Thursday's event was heavy on personal anecdotes from TRIO alumni and plaudits for TRIO, but light on research.
Most speakers cited the myriads of success stories of TRIO alumni who went on to rewarding careers in different fields — including STEM fields — as evidence of TRIO's effectiveness.
The personal stories were powerful and resonated with the audience nonetheless.
Asked what she would tell members of Congress or a future administration that was intent upon phasing out TRIO to save money, Clytrice Austin-Watson, associate dean for student success and an assistant professor of biology at Delaware State University, said she would invite them to look at her own career.
"Upward Bound has played a critical role in my success and in everything that I've done," Austin-Watson said, explaining that she is one of six children and the first in her family of to attend college — an achievement that she said changed the dynamics of her family.
"The program has given me the tools to be successful, a roadmap to come out of my situation," Austin-Watson said.
During a Q&A, an African-American female mechanical engineering student involved in the Ronald E. McNair Postbaccalaureate Achievement Program within TRIO asked what could be done to attract more girls of color into her field of study.
Austin-Watson acknowledged that being a woman of color in a male-dominated field such as mechanical engineering was a unique challenge in and of itself. But she encouraged the student to start a mechanical engineering society that caters specifically to women of color in mechanical engineering if none exists.
"The great thing about America is we can start our own societies," Austin-Watson said.