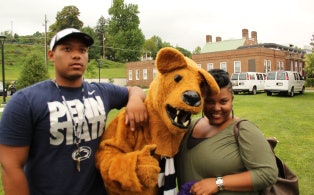 SCHUYLKILL HAVEN, Pa. — When Michael Phelps Jr. told a college adviser once that he wanted to go to Penn State University, he was told his goal "wasn't realistic" because of his grades. The adviser said Phelps should apply to more "safety schools" to shore up his chances of getting into college.
That may have been sound advice. But the other day, 18-year-old Phelps dispelled any notion that he would never set foot on a Penn State campus as a student.
Waking up before dawn, Phelps and his mother hopped in a rented Chrysler and made the three-hour road trip from their apartment in Southeast Washington, D.C., to move Phelps into a first-floor dorm room of a residence hall named after the Penn State mascot—the Nittany Lion—here at Penn State Schuylkill.
The scene was just one of many that played out at college campuses across the nation this past weekend as students settled in to begin the 2014-2015 school year, which starts this week.
The serene campus at Penn State Schuylkill—which sits in the midst of rustic barns and foggy, tree-covered mountains here in this historic, 18th-century town known as "The Little Town That Could"—is a far cry from Phelps's home in Ward 8 in Southeast D.C. Ward 8 is an area of the nation's capital known for high rates of poverty and crime and low rates of high school graduation—33 percent by some counts and even lower for young men—and low rates of college completion.
The area is so violent that Phelps says he never went outside there as a child to play or socialize.
"I never hang out in that neighborhood," Phelps told Diverse. "It's just dangerous in general."
Indeed, within the past four years, 207 violent crimes, including four homicides, took place within 1,500 feet of Phelps's home, according to an analysis of statistics from crimemap.dc.gov.
Phelps's mother recognized early on that it was best to have her only son involved in activities outside the area, even if she couldn't afford to live anywhere else.
"I started young with him doing stuff outside of the neighborhood," April Bumbrey said. "We just keep away from it."
But staying away from the negative influences that lurked just outside the door was only part of what enabled Phelps to get accepted into Penn State Schuylkill—a school where Phelps hopes eventually to transfer to the main campus at Penn State through the university's 2+2 Plan — a route taken by about 60 percent of Penn State students in any given year.
Another part of getting Phelps to defy the daunting odds of his demography involved a scholarship to attend a private high school and mentoring.
Both came by way of Capital Partners for Education, a D.C.-based nonprofit that serves young people from families of lesser economic means.
Phelps and his mother first learned about Capital Partners for Education through a KIPP Academy in D.C., where Phelps went to middle school.
In fact, it was two KIPP teachers who were alumni of Penn State that spoke so highly of their alma mater that it made Phelps want to go there, too.
But if the seed for going to Penn State was planted at KIPP, it was nurtured by Capital Partners for Education, or CPE. It was CPE that paired Phelps with Harrison Miller, a real estate development specialist who attended Phelps's football games, took him bowling and fishing, and—perhaps most important—helped Phelps formulate his college admissions essay about a personal event that he overcame.
"He was having writer's block, so he called me up, and I just prodded him a little, asked him a couple questions," Miller recalled. "And that just got his mind flowing, and he was immediately like, 'Wow, hey, that's a great idea,' and it was off to the races."
Phelps had plenty of personal experiences—positive and negative—from which to draw. A dominant theme in his essay was being raised by a single mother.
He took a trip as a missionary to Peru after turning to his network of friends and supporters, including launching an online crowd-funding campaign. He also traveled to Europe with help from others.
But his high school years were also marked by a series of tragedies.
For instance, Phelps lost a childhood friend to cancer. Then his grandmother fell victim to the same thing.
A skilled cellist, Phelps ended up playing solo versions of "Amazing Grace" at both their funerals.
Shortly after meeting an uncle who had just gotten released from prison, the man got Tasered to death by police after committing a retail theft in an attempt to get sent back to jail in order to get medical care.
The Taser death of his uncle is just one of several things that make Phelps want to major in forensics on the main campus at Penn State University.
"I'm really into figuring out what happened," Phelps said.
But Phelps knows he has more to overcome.
He didn't graduate in the top 10 percent of his class. His combined SAT score—1540—is at the lower end of the range achieved by the middle 50 percent of students offered admission to Penn State and all its campuses. Phelps plans to take advantage of the small campus environment in order to build up his GPA.
Phelps harbors dreams of eventually going out for the football team at Penn State, hopefully becoming a lineman on the bowl-winning team.
"They produce a lot of linebackers for the NFL," said Phelps, who always chose Penn State as his team whenever he played the NCAA Football video game on the Xbox 360 or Playstation 3. "Hopefully I'll make it, get recognized and pushed out."
As for tuition, Phelps said that, although his first year is covered, any future scholarship aid will be based on how well he does as a freshman.
"They say if I keep my grades up, more scholarships will be given to me," Phelps said.
Phelps doesn't view the wait-and-see approach as a bad thing.
"I work harder under pressure," Phelps said. "That's just an opportunity to put me under the light to show what I can do."