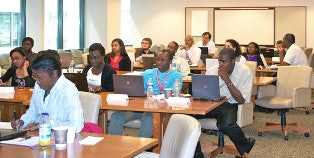 WASHINGTON — In order for the Obama administration's proposed college ratings system to be fair, the system must take into account the differences in institutional resources and variations in the overall characteristics of different student bodies.
That was one of the key takeaways from a policy briefing staged on Capitol Hill Tuesday by The Civil Rights Project within the Graduate School of Education & Information Studies at UCLA.
The briefing took on the form of a symposium and featured papers penned by several scholars who sought to illuminate the complexities associated with trying to develop standards by which to judge institutions of higher learning — particularly if those standards will be used to determine financial aid, as the Obama administration has signaled it wants to eventually do.
Several speakers suggested that graduation rates alone — typically the most popular of all benchmark — are not a fair measure of institutional effectiveness. Instead they said that certain variables — such as having fewer financial resources per student or serving students with less academic preparedness — should be weighted differently so that minority-serving institutions are not unfairly penalized.
"Any national rating system must be fair to students and fair to systems that serve many low-income, first-generation and underrepresented groups," said Sylvia Hurtado, professor and director of the Higher Education Research Institute at UCLA, noting that such groups are less likely to graduate irrespective of the type of institution they attend.
Professor Gary Orfield, co-director of The Civil Rights Project at UCLA, said it would be wrongheaded for the proposed rating system to cause a college to be deemed as subpar — and to lose financial aid — simply because it accepts students who are less academically prepared.
"If we take those institutions that are going to take a chance on [less academically prepared students] and then punish the college for taking them, we're replacing one crisis for another and cutting off social mobility," Orfield said.
Other scholars tackled a variety of issues that ranged from racial disparities in student loan borrowing to varying degrees of college preparedness for different socioeconomic groups.
Sara Goldrick-Rab, a professor of educational policy studies and sociology at the University of Wisconsin-Madison, pushed for financial aid policies that take into account the greater reliance on student loans among African-American students — a reality she attributed to estimated Black-White wealth gaps that show White families have anywhere from eight to 20 times as much wealth as Black families.
"We need policies that respond to the problem by acknowledging it and providing hope, not cutting them off," she said, in presenting a paper titled "The Color of Student Debt: Implications of Federal Loan Program Reforms for Black Students and Historically Black Colleges and Universities."
Among other things, she proffered that the federal needs analysis for financial aid should be changed to allow for a negative expected family contribution, or EFC, "so that all struggling families receive more support to facilitate college enrollment, reducing their need to borrow."
Stella Flores, an associate professor of public policy and higher education at Vanderbilt University, called attention to racial disparities in participation in college prep high school courses, such as trigonometry, which has been shown to double a student's odds of earning a bachelor's degree.
Participation in a trigonometry course is 70 percent for White students, 61 percent for Hispanic students and 47 percent for Black students, Flores said.
"College completion is not just a postsecondary issue," Flores said as she stressed the importance of examining "pre-college factors" in making determinations about colleges based on their graduation rates.
U.S. Deputy Under Secretary of Education Jamienne Studley revealed that the administration was having conversations about its proposed ratings system that were "eerily similar" to the conversations that took place at Tuesday's briefing.
Studley also suggested that it may be helpful to examine "postgraduate outcomes," such as student loan repayment rates and salaries, as part of the ratings system, a draft of which is due out in fall. But she acknowledged it could be difficult to ascribe any meaning to those postgraduate outcomes because of discrimination in the marketplace.
"This is very complicated work," she said.
Orfield, of UCLA, said the administration should make sure its policies do not result in unintended consequences that hurt minority students and the institutions that serve them.
"The first rule of policymaking is do no harm," Orfield said.
He said the papers presented at the conference would be shared and revised and eventually published in professional journals and on the website for The Civil Rights Project at UCLA.
"This was not designed to be an attack on the Obama administration and his proposals," Orfield said. "It is a thoughtful way to contribute to an ongoing discussion."