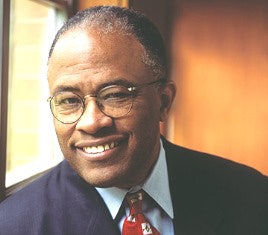 BALTIMORE— When a selection committee interviewed Kurt L. Schmoke for the prestigious Rhodes scholarship at Oxford University back in the 1970s, they asked him to peer into the future and predict his profession some 35 years later.
"I said that I wanted to be a university president or a U.S. Senator," recalls Schmoke in an interview with Diverse. "I've been interested in promoting lifelong learning for a long time."
Two months ago, the 64-year-old's dream came true.
He was named president of the University of Baltimore, headquartered in his native hometown where he once served as mayor from 1987 until 1999.
It's not hard to see why the former legislator was tapped to lead the school that was founded in 1925 and had previously only offered undergraduate instruction to students at the junior and senior levels.
But in 2007, the university decided to accept freshmen and sophomores. Today, the student population is about 6,500 and the average age of a UB student is 28.
Last year, the university embarked on an ambitious development plan that included the construction of a new law center. University officials say that several new housing projects are currently underway.
Still, the university, which graduated prominent alumni like Baltimore Orioles owner Peter G. Angelos, former Maryland governor William Donald Schaefer and GoDaddy.com owner Bob Parsons, is not as well known as some of the other surrounding institutions.
In fact, when it was announced that Schmoke was leaving Howard University, where he was dean of the law school and held several other stints, including acting vice president of academic affairs and general counsel, some of his colleagues were unaware that an institution named the University of Baltimore even existed.
"My colleagues kept asking 'Where is Freeman going?'" Schmoke says with a laugh, referring to the longtime president of the University of Maryland, Baltimore County, Dr. Freeman Hrawbowski III. "I said, 'Different school. That's a different school.'"
With a yearly tuition of about $8,000, Schmoke says that the university — which currently has four colleges: the College of Public Affairs, the Merrick School of Business, the School of Law and the Yale Gordon College of Arts and Sciences — is still one of the best-priced institutions in the region. The university's endowment has grown in recent years to more than $40 million.
But for many, the tuition "still seems a hurdle to many of our students," says Schmoke, who endowed a scholarship for local students to be given in honor of his brother, Murray Alexander Schmoke Jr., who died in a car accident in 1994 while volunteering as an English teacher in South Africa.
Parsons, an entrepreneur, has also established a grant to help provide educational assistance to veterans who enroll at the university after returning home from overseas.
Over the past two months, Schmoke has been crisscrossing Maryland to meet with the state's 17 community college presidents, in an attempt to bolster the school's recruiting efforts.
"I'm working my way from west to east," he says. "We are letting them know that we would like to recruit their students more aggressively."
He says that recruitment and branding are priorities. When a local Baltimore television anchor called on him to take the ice bucket challenge to help raise money for the ALS association, he brought along three students and the school's mascot — a bee — to help spread the word about the university.
"Those kinds of things help to start a little conversation, where people say, 'What's the University of Baltimore? What's Schmoke doing down there?' My primary focus is helping to raise the profile of the University of Baltimore."
Jamal Watson can be reached at jwatson1@diverseeducation.com. Follow him on Twitter @jamalericwatson.