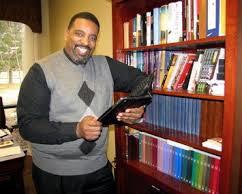 Oakwood University's Dr. Keith Augustus Burton has created the first HBCU-developed massive open online course — a move that colleagues hope will put HBCUs square in the mix of the growing educational trend.
Massive open online courses (MOOCs) provide an opportunity for students all over the world to take free online courses. Though most are separate from accredited degree programs, they provide access to education that may have been hard to attain otherwise.
"I think the good thing about MOOCs and open education resources is that it democratizes the academic process," said Burton. "There may be some people who never would afford to go to the university, and this allows them to sort of get that context. And even beyond that, there may be people who can afford to go to university but [wouldn't ordinarily take the classes offered] — this gives them an opportunity to explore" those topics in depth.
Burton's Understanding World Religions: An Occupational Approach course is being offered through the Center for Distance Learning at Wiley College, of which Oakwood College is a member institution. The course, which is largely based on materials he uses in a similar course at Oakwood, will consist of videos, lecture outlines, discussion boards and tests that students can access on their own time, as well as a live weekly lecture Burton will conduct.
Melissa Loble, senior director of Canvas Network, which is hosting the course, said "Current events highlight how religious differences often drive deep divisions.
"But by exploring world religions through the lens of workplace diversity, this course will offer students an intriguing journey of discovery to find common ground in diverse religious beliefs and practice."
Burton said he hopes the material in this course will encourage people to think about how differences in religious beliefs "affects other people's walks and how we look at other people," and will start a dialogue "that can help us develop a community."
"The unique nature of this course is that I've structured the content in such a way that the person taking the course can customize it to his or her own experience," Burton said. "There's going to be a fixed structure to the class, where we basically introduce the basics of these religions, but then there's also going to be a customized structure, where the assignments will … challenge the students to look at the same traditions from his or her own occupational or academic context."
"A person who is in the health care profession could look at world religions basically from the standpoint of diets — what does a Muslim eat or what do they not eat, what are their dietary taboos? Or someone who is in political science can take a look at world religions from a standpoint of diplomacy," he continued.
"This is the first time it came to something like this, so this is new ground for me," Burton said. But Dr. Kim Long, director of the Center for Excellence in Distance Learning at Wiley College, who initially approached Burton about developing the course, hopes the "new ground" will spark a trend to launch HBCUs forward in online education.
"By spearheading the creation of the first HBCU-developed MOOC, we intend to claim a place for our students and institutions on the MOOC landscape," Long said.
Burton's course is not linked into the academic course offerings at Oakwood for this semester, but in the future, it will be, he said.
"We're doing a system [by which] schools in the consortium [including Oakwood, Wiley College and Florida Memorial University] who take this class should be able to get academic credit, based on the criteria that's set by their school," he said, adding that a comprehensive exam and fee may be associated in that phase.
For now, however, interested students may enroll in Understanding World Religions: An Occupational Approach through Canvas Network beginning Oct. 27.