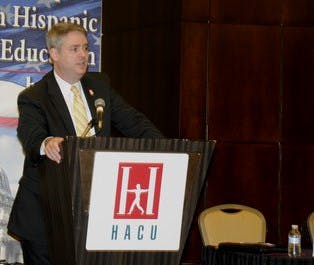 DENVER ― One of the most important topics for minority serving institutions is funding: where to find it and how to get it. At the Hispanic Association of Colleges and Universities (HACU) conference, leaders discussed that issue in a series of panels.
Hispanic-serving institutions (HSIs) derive significant appropriations from a number of federal bodies, including the U.S. Department of Education, the Department of Agriculture, and the National Science Foundation (NSF).
HACU leaders provided an update on how HSIs have gotten funding in the past and what challenges lie ahead at the panel "Federal Funding Opportunities for Teaching, Research, and Outreach for HSIs" on Sunday.
Luis Maldonado, chief advocacy officer at HACU, stressed the importance of political engagement. "This is the most important adage in Washington," said Maldonado. "If you're not at the table, you're on the table."
HSIs, Maldonado said, need a voice at the table in political decision making in Washington to ensure that their needs are met. By not participating in policy discussions, whether through advocacy from organizations like HACU or through the efforts of elected public officials sympathetic to HSIs, HSIs will lose out on funding opportunities.
HACU has been working with legislators in the nation's capital to ensure that policies benefiting HSIs and Hispanics are promoted. The Farm Bill, which was reauthorized relatively recently, and the Higher Education Act, which Congress will consider reauthorizing soon, impacts all MSIs, including HSIs.
The reauthorization of the Farm Bill in February 2014 highlights HACU's efforts in Washington. One of HACU's provisions, a competitive grants program for Hispanic agricultural workers and youth, was included in the reauthorization.
"This idea developed a couple summers ago. We were watching a video about kids and agricultural workers not really being able to be in school such as they should," said Serena Davila, executive director of legislative affairs at HACU. "We wanted to develop a program that would provide training for the workers, rather than having them be in the fields."
The Higher Education Act has yet to be reauthorized, though a discussion draft has been released. Maldonado said that the MSI Innovation Fund, a Title VII proposal, is promising. In its original form, the fund was intended only for HBCUs but has since been expanded to incorporate all MSIs.
One area of contention between the Department of Education and HACU comes from new guidance from the DOE with regards to Title III and V endowment income. MSIs, including HSIs, HBCUs, and TCUs, were able to generate income through putting a portion of their grant money into endowment funds. The income could be used later for scholarships and student aid.
Though these practices have been in place since 1983, two recent letters of guidance from the Department of Education state that the income generated from the endowment is to be used solely for institutional benefit, not for student aid.
"It just doesn't make sense," said Maldonado, who added that the letters were issued after one external auditor contacted the department inquiring as to whether income endowment was allowed to be used for scholarships.
"We're trying to get the Department to change its mind. It's not likely after two letters. So what we're more likely to be able to do is to extend the window until they start to enforce this," said Maldonado. In the meantime, interest groups such as HACU and UNCF will have time to push back against the law.
Currently, the guidance is set to be enforced in the summer of 2015.
Maldonado critiqued the NSF for failing to provide targeted infrastructure development funding for HSIs. HBCUs and TCUs receive such specific funding. Although some four-year HSIs already do receive grants through the NSF, Maldonado said that all HSIs should.
Maldonado moderated a later panel, "Federal Funding Opportunities for Teaching, Research and Outreach for HSIs," and praised other elements of the relationship between the NSF and HACU.
"This is not an adversarial situation at all; in fact, we have very strong ties to the National Science Foundation," Maldonado said, adding that HSI college students are provided the opportunity to intern with the NSF.
At the later panel, Dr. Jose L. Munoz, CTO of the NSF, described the various opportunities that NSF does provide for HSIs, such as NSF's Graduate Research Fellowships Program (GRFP). That program, Munoz said, awards $32,000 to fellows and $12,000 to their institutions. "This makes the program very attractive," he said.
The popularity of the GRFP is borne out by the numbers. "We give about 2,000 awards a year," Munoz said. "Last year, we had 14,000 applications."
HACU representatives pledged to continue to promote HSIs and Hispanic interests in Washington.
Staff writer Catherine Morris can be reached at cmorris@diverseeducation.com.