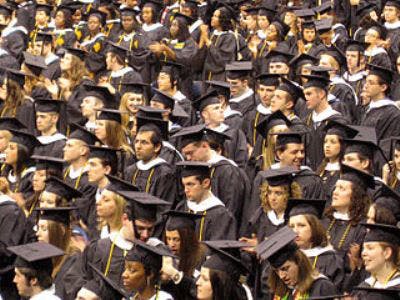 College graduates prepare to walk across the stageA new report by the American Council of Trustees and Alumni found that very few schools across the nation require literature, foreign language, U.S. Government or history, or economics classes as part of the core requirements for a bachelor's degree, leading the organization to question how well students are prepared upon graduation.
Of the nearly 1,100 institutions surveyed for the "What Will They Learn" report, only 37.5 percent required literature coursework; 13.1 percent required a foreign language class; 18.3 percent required U.S. government or history; and just 3.3 percent required an economics class in the institution's core curriculum. Cost of attendance and perceived "prestige" of institutions had little bearing on the study's findings; of the Ivy League institutions, none were awarded a grade of "A" for their core course requirements.
"The significance of this study is that neither prestige, nor wealth, nor a college's rhetoric and claims mean that a college will necessarily enrich students' lives with a liberal arts education," says Dr. Michael Poliakoff, the study's lead author.
"Parents and students sacrifice a great deal for an education; they ought to be sure students are enrolled in a college that knows what it means to be a college-educated person," Poliakoff continued. "That means taking a thoughtful look at the curriculum and ensuring graduates are prepared with the skills and knowledge they'll need for career, citizenship and community."
HBCUs, however, are one group that fared particularly well in the study. The institutions, which Poliakoff notes are "highly student-focused, tend to have much stronger and more meticulously constructed general education requirements than elite liberal arts colleges and flagship public universities, which often assume that their students will make reasonable choices from a vast 'cafeteria-line' of distributional choices."
He notes that failing to firm up core requirements with the expectation that students will self-select a comprehensive liberal arts courseload is "wishful thinking." A prior survey, he says, showed parents and students favor the idea that students should be required to study all of the basic courses outlined in "What Will They Learn," regardless of major.
The study also concluded that course catalogs are often unclear about what is required of students and often poorly describe course content.
"Students, parents, and policymakers trying to find out what schools require will often have a hard time of it," the report says. "Some schools are clear and unambiguous about their requirements, but others hide them on back pages of the catalog."
The bottom line: "American higher education needs to become serious about equipping students to be effective participants in global conversations and a global economy."
"We've been heartened to see some colleges step up and make curricular changes to become 'A' schools," says Poliakoff. "Parents and students should make their voices heard by trustees and other education leaders. Trustees have the power and responsibility to set educational outcome goals; they should follow through with these common-sense reforms that the American people want."
He added that 25 to 34 year olds — recent graduates looking for jobs "in a job market that is anything but predictable" — are the strongest proponents of firming up core requirements.
"We think that speaks volumes," he says.