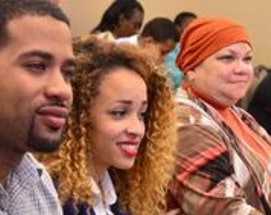 Sometimes an undercurrent theme can overshadow a conference's main focus. Relevancy in the age of multiculturalism got as much attention as "45 Years of Identity, Innovation and Intersectionality," the theme of this year's Annual Association for Black Culture Centers (ABCC) conference.
"We think we're in this post-racial society," LaKeitha Poole, coordinator for African American Student Affairs at Louisiana State University, said at a meeting for ABCC state coordinators. "But we always get the question: Is the [black] culture center still relevant? I think they are."
While the relevancy question won't go away, Poole's opinion found consensus, it's fair to say, among most of those attending ABCC's 24th conference, Oct. 30- Nov. 1 at the University of Illinois at Urbana-Champaign.
Students, their use of the centers and the success stories that come from them make the best case for the continued existence of black culture centers, Poole says. LSU's 21-year-old African American Culture Center is "definitely the hub of black student life" on the Baton Rogue campus, she notes.
On other campuses, like Yale and the University of Illinois, black culture centers are even older. Both have centers that turned 45 years old this year.
As ABCC approaches its quarter-century mark, its leadership is well aware of the shifting winds surrounding race, culture and ethnicity on campuses nationwide.
"There's a multicultural movement on college campuses," says Richard O'Bryant, referring to an increase in other minority students — Asians, Africans and Latinos — on campuses nationwide who seek their own cultural recognition. That's not "a bad thing," he acknowledges.
In fact, there's a "multicultural renaissance" within the black community, as more students of color embrace their mixed heritages. "Even though they're born within the United States," they don't all want to call themselves African-American, says O'Bryant, the director of the John D. O'Bryant African-American Institute at Northeastern University in Boston, named after his late father.
The African-American enrollment at Northeastern is 5 percent, and the total non-white enrollment is 30 percent, O'Bryant says. "We have to grapple with what to call ourselves," he says. "And, we have to be honest with ourselves about the changes that our community is going through."
Even historically black colleges are wrestling with what multiculturalism means, says O'Bryant, though, he considers "HBCU and multiculturalism centers" an oxymoron.
As ABCC grapples with change, its board actively confronts the relevancy issue. ABCC has strengthened its alliances with larger organizations, says Dr. Fred Hord, who founded ABCC in 1987 and remains its conscience and a guiding force.
Through Hord's outreach, ABCC in the past year developed partnerships with the American Association of School Personnel Administrators and the Student Affairs Administrators in Higher Education. The partnerships will allow dual memberships, and for members to attend and present at each group's conferences. Other benefits are more visibility and credibility for ABCC.
Another move may be on the horizon for ABCC, too. The board voted unanimously on Oct. 30 to approve a proposal to accept Northern Illinois University as it new home base. It's currently housed at Knox College in Galesburg, Ill.
Additionally, ABCC wants to strengthen its alliance within the Big 10 Conference (actually 14 schools), says Larry Williamson Jr. director of the Frank W. Hale Jr. Black Cultural Center at Ohio State University and an ABCC board member. "We're the bigger schools with really nice [black] culture centers." Because these schools lead the way, it's important that ABCC have coordination and dialogue with them, he says.
Aside from tackling the business of its viability, the ABCC conference allowed students and leaders a chance to learn from each, hear from scholars, authors and activists.
Todd McFadden and Brandon Bell from the University of North Carolina at Wilmington did a dual presentation on The Excellence Project, which employs a team of peer mentors to support students' academic success and create an equitable environment for black students to navigate common stressors such as micro-aggressions.
Marjorie Fuller, director of the Center for Black Culture and Research at the University of West Virginia, described the Academic STARS program she started on campus. It's designed to acclimate students to the academic rigors they will face on campus, gives them leadership training and supports them in becoming role models.
Billed as a think tank, another session titled "Understanding and Responding to Ferguson, Missouri," packed a room. Author, publisher and poet Haki R. Madhubuti moderated a discussion that examined police behavior, media coverage and community response to a shooting that commanded the nation's attention for several weeks.
While the winds of change may be at the door, many of the conditions that lead to forming ABCC in the first place have not gone away.
"Our feeling is that you don't abandon your history because other people come into the picture," says Rory James, director of the Bruce D. Nesbitt African American Cultural Center at the University of Illinois and conference coordinator. "You use the foundation that you've built to continue to build as you climb."