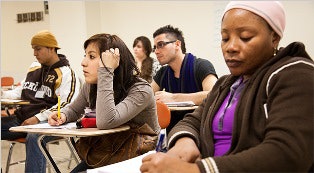 Degrees and certificates earned at community colleges can positively impact students' future earnings and employability, according to a new report published in the journal Educational Evaluation and Policy Analysis.
The report, which looked specifically at returns on sub-baccalaureate programs in Washington state, found that overall associate degrees and long-term certificates provided good return for their money, with increased wages and better employment opportunities for graduates and certificate holders. Short-term certificates, which can be earned in less than a year, for the most part, showed only small economic returns.
"Our findings that community college credentials lead to both large wage increases but also large increases in employment, should really send a signal to states that investing in community college credentials is a good idea," said Mina Dadgar, co-author of the report and director of research at the Career Ladders Project.
Short-term certificates are growing in popularity, making up 38 percent of the credentials issued by community colleges nationwide in 2011. The number of students earning short-term certificates increased 151 percent between 2000 and 2010.
Yet the report found that the most substantive economic gains were a result of obtaining either a long-term certificate or associate degree. Among men, earning a long-term certificate was associated with an 11 percent increase in being employed, and earning an associate degree was associated with an 8 percent increase. For women, a long-term certificate was associated with a 9 percent increase in the likelihood of being employed, compared with an 11 percent chance of the same if they earned an associate degree.
There were a few exceptions: short-term protective services certificates, predominantly earned by men, were shown to increase earnings and employability.
"When you broke this down by field of study, there were one or two fields where it looked like there may be something promising in terms of short-term certificates, but ultimately the message was a little bit grim," said Madeline Joy Trimble, co-author of the report and data analyst at the Center for Analysis of Postsecondary Education and Employment (CAPSEE), housed at Columbia University's Teacher College.
The authors said that community and technical colleges might be able to use the data found in the study to design stackable certificates, which would allow students to use short-term certificates to build towards long-term certificates or associate degrees. "We do hope that each state does similar analyses, and that analysis is used, first to design stackable credentials ― so shorter=term credentials that students use as a stepping stone or building block towards earning a long-term certificate or associate degree," Dadgar said.
"I do think that short-term certificates can be valuable for students, particularly if there's the opportunity to go back to school and build on those skills," Trimble said.
Both Trimble and Dadgar agreed that high school and college counselors might be able to use the data to help prospective students assess which field to pursue. An associate degree in nursing, for example, was found to be associated with a 37.7 percent increase in women's wages. Earning an associate degree in humanities, social sciences, information science, communication or design was not.
"Some jobs that may have relatively low returns in terms of wage and earnings may still be desirable for other reasons. They may provide more stability, they may provide more fulfilment," Trimble said.
The study followed more than 20,000 students who entered any of the 34 Washington state community and technical colleges as first-time students in 2001-02, for seven years. For that reason, the data may have some relative limitations with regards to external applicability beyond Washington state and an economic landscape altered by the Great Recession.
Trimble is co-authoring another study measuring the wages of students who earned short-term certificates in Virginia and North Carolina through the Community College Research Center at Columbia University's Teachers College. The preliminary results of that study are already out, although the working draft will not be available until later in 2014.
"Of those studies, the Washington study is the one that has found the lowest returns to short-term certificates on average. The others have mostly found a small positive effect on average, though still mostly lower than the returns to long-term certificates and associate degrees," Trimble said.
In fact, data from North Carolina corroborates the finding in the Washington state report that men who completed a short-term certificate in protective services saw higher wages.
"In Washington there was a fairly small sample for protective services in men, so we thought that could just be a fluke, but in the study in North Carolina, we have also found that these protective service short-term certificates are extremely high return," Trimble said.