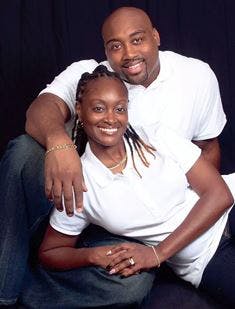 When Cheloyn Keeton-Todd served as a staff sergeant in the United States Air Force from 1998 to 2008, she was sent to such places as Kuwait and Germany. During that time, she also managed to earn a bachelor's degree online in health care administration.
Today, as a civilian, she is in an accelerated nursing program at Rasmussen College in Florida with all her education costs covered by the Post-9/11 GI Bill.
"My initial job was a material control specialist," Keeton-Todd explains in an interview with Diverse. "I then cross-trained and became a medic until I came out. On 9/11, I was in Kuwait at Kuwait International Airport where I was responsible for obtaining parts for vehicles."
She calls the Post-9/11 GI Bill "an excellent, excellent opportunity if you go into it with the right mindset. If your intentions are to go to school and earn your degree and do it honestly, then you won't have a problem at all and whatever you are entitled to you will receive. On the flip side, if you're in it just to get money out of the government, it's not going to work well for you."
Congress passed the Post-9/11 GI Bill in 2008 to give Iraq and Afghanistan veterans and their families "a chance to improve their lives and invest in their future through higher education," according to the Department of Veterans Affairs.
Keeton-Todd is among the 773,000 veterans and family members the VA says are currently receiving Post-9/11 GI benefits. In November 2013, the VA announced that 1 million beneficiaries had received the benefits since the program's inception.
The bill offers financial support for education and related expenses to individuals with at least 90 days of aggregate service after September 10, 2001, or those discharged with a service-connected disability after 30 days. They must have an honorable discharge to receive benefits.
Newly reported difficulties
In recent months, however, some elected officials and veterans groups have expressed concern over added restrictions and reported difficulties in obtaining the benefits.
In August, Sen. Dick Durbin, D-Ill., sent a letter to the Department of Veterans Affairs to express his support for a waiver request from veterans groups and the Illinois Student Assistance Commission that could allow veterans to more fully access their educational benefits.
"VA policy requires state benefits to be applied before Post-9/11 GI Bill benefits, so veteran students must spend down all state benefits before they can access these federal bene­fits," Durbin's letter states.
"Post-9/11 GI Bill benefits can be used to help pay for housing while state veterans benefits cannot, which leads many students to forgo the state benefits to which they are entitled so they can take advantage of the Post-9/11 GI Bill benefits."
If approved, the waiver would allow veterans to decide whether to use state or federal educational benefits for college rather than losing federal benefits for housing because they receive state funds for veterans education.
Keeton-Todd says some students experience problems of their own making. She says she is aware of several people who have attempted to obtain funds from the program without actually completing the classes.
She warns, "The government will get the money back—one way or another. It gives you the opportunity to receive an education, but it's not free money, and some people don't understand that."
She says she learned by having "a few bumps along the way, so when I talk to younger (veterans) who are just starting to use (the Post-9/11 GI Bill), I tell them you are only covered for classes that you complete, so you have to be very careful about dropping classes."
Another veteran, Irfan Siddiqui, is a sophomore majoring in biochemistry at UMass Amherst with plans to become a physician's assistant or registered nurse—and to become a commissioned Marine Corps officer.
Siddiqui joined the Marines in 2004, served nine years and was honorably discharged as a staff sergeant. Currently he is using the Post-9/11 GI Bill to further his education.
"I wanted to go to a big four-year university," he says. "I wanted to have that experience and the resources of that kind of campus."
Siddiqui says he is particularly interested in "getting into a lab in my junior or senior year to get some [research] experience."
Siddiqui, whose story as a Post-9/11 GI Bill bene­ficiary is featured on the Marine Corps website, tells Diverse that his experience obtaining the education bene­fits has been positive. "I work on campus in the veterans benefits of­fice, so it may have been a little easier for me, but it's a pretty easy process for most people, I think. Just like with any automated system, there is a chance of a problem arising, but normally it works out pretty well."
Siddiqui has completed the Marine Corps Platoon Leadership Class junior course along with half of the requirements to become a commissioned officer. Once he completes the senior session of the Platoon Leadership Class and earns his bachelor's degree, he can ful­fill his commission as a second lieutenant.
In August, the Department of Veterans Affairs launched an updated GI Bill Comparison Tool, which was first announced in February 2014.
"The GI Bill Comparison Tool is designed to make it easier for Veterans, Service members, and dependents to estimate their GI Bill education benefits and learn more about VA's approved college, university, and other education and training programs across the country," a VA news release stated. The tool also provides information about college affordability and value for bene­ficiaries.
Both Siddiqui and Keeton-Todd point out that the process of obtaining the benefits can involve quite a bit of electronic paperwork and phone calls, and there can be complications.
For example, Keeton-Todd says, "The (bill) won't pay for students to retake classes that they fail and it won't pay for them to retake classes to get a higher grade, so the students need to know what they want to do and to plan carefully."