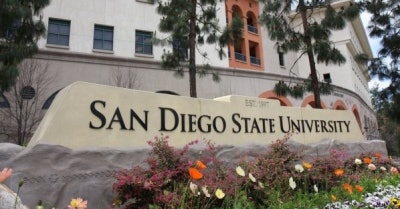 SAN DIEGO — The Delta Sigma Phi fraternity chapter at San Diego State University has been shut down because of its members' alleged misconduct.
University officials said Tuesday some of the fraternity members yelled obscenities, waved sex toys and threw eggs at a "Take Back the Night" march last month. The march aims to raise awareness about sexual assault.
SDSU spokeswoman Beth Chee says the fraternity also violated alcohol and hazing policies.
The chapter has been barred from returning until fall 2016. Members accused of harassing marchers face a separate investigation.
The local chapter president did not immediately respond to an email request seeking comment.
The Delta Sigma Phi national office says the behavior was inconsistent with its standards.
The chapter was kicked off campus in 2008 for alcohol and hazing violations.