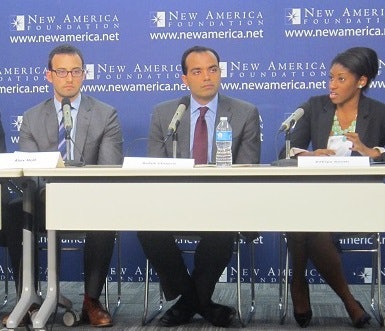 Enrolling Americans with student loan debt in an automatic Income-Based Repayment system and automating their repayments through employer payroll withholding could substantially simplify the student loan system and lessen the number of loan defaults, contends three higher education research and advocacy organizations in a new policy paper.
Released on Wednesday, the paper, "The Case for Payroll Withholding," which is co-authored by the New America Foundation, the Young Invincibles organization, and the National Association of Student Financial Aid Administrators, outlines four distinct policy approaches for Income-Based Repayment (IBR) systems. The Bill & Melinda Gates Foundation commissioned and provided grant support for the paper through its Reimagining Aid Design and Delivery (RADD) project.
With student default rates on the rise, there's been growing interest in Washington to improve the Income-Based Repayment system. Currently, an estimated one in five new student loans are expected to enter into default at a given point during repayment. The present IBR program links borrowers' repayments to their income, rather than to their loan balance. As such, IBR lowers the financial risks associated with loan delinquency and default.
The IBR approaches discussed in the paper are: (1) the current, non-automatic IBR system; (2) an automatic enrollment system; (3) an automatic enrollment system in which the federal government retrieves income information from IRS or Social Security Administration records but still requires borrowers to pay manually; and (4) a system of automatic enrollment in which borrowers' employers calculate the amount they owe and then automatically withhold that amount from the employee's paycheck.
The paper finds that while "there will be issues and trade-offs with any newly proposed repayment system … automatic IBR coupled with an effective payroll withholding system can reduce defaults and delinquencies on a large scale."
Alex Holt, the education policy program analyst at the New America Foundation, said the paper represents an effort by the collaborating organizations to help policymakers and others understand the challenges that implementing automatic IBR systems would entail. "Advocacy organizations and politicians have talked about making income-based repayment with an automatic option and that sounds really good in theory but we're pointing out in this report it's a lot harder than it sounds," noted Holt.
"The second thing that we talked about in the report … is that if you really want to do this the only way is through employer withholding. So if you have an employer withholding system, people who are not employed currently don't have to pay and that's really hard to with any of the other approaches," he explained.
The policy paper is about "continuing the conversation about how big problem student loan defaults are. The government [estimates] that about a fifth of new student loan borrowers are going to default on their student loans," said Jennifer Wang, the policy director of the Young Invincibles organization, which conducts policy research and advocates for 18- to 34 year-old Americans.
"We do hope that some of the ideas that we write about are taken seriously because, I think, there is an appetite to simplify federal financial aid," she said.
Holt said the three organizations are working on a follow-up research report to describe in detail how an automatic IBR system could incorporate employer withholding. "What we're looking at in our next paper is how exactly would you do that. How exactly would this work? It's going to be a huge project," he said.
Since 2012, the Gates Foundation has awarded grants to more than a dozen organizations, which have made recommendations for changes to federal financial aid programs that improve student success and address the needs of today's students. The Foundation's goal for RADD has been to produce a robust discussion about how financial aid can be used as a lever to increase student success, especially for low-income and middle-income students.