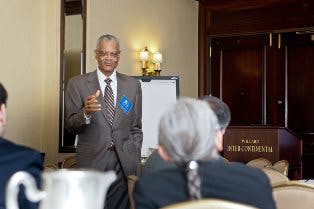 Dr. Earl S. Richardson, president emeritus of Morgan State University, says that the failure of President Obama to "address the issue of equity in funding for the Black colleges and equal opportunity for the students they serve is (an) abomination."Many in and around the historically Black college and university (HBCU) community recently have publicly pondered the state of the institutions as a whole—and much of the narrative has not been positive. Between a dearth of confidence in leadership, a lack of advocacy at all levels, and local problems such as declining enrollment and concerns over institutional ability to compete in an ever-changing higher education landscape, much of the public discourse about HBCUs has been less than optimistic about the future viability of these institutions as a whole.
"It's very di­fficult to think about HBCUs as one unit, because they're so vastly different," says Dr. Ivory Toldson, deputy director of the White House Initiative on HBCUs. "There are some HBCUs that are really standing out and some HBCUs that I'm really concerned about."
However, overall, Toldson says, "I'm optimistic about the future of HBCUs in general."
But this general optimism is not a sentiment shared by all.
Dr. William Harvey, president of Hampton University and chair of the President's Board of Advisors on Historically Black Colleges and Universities, decried the lack of support from the federal government on behalf of HBCUs in a September speech in Washington, D.C. In his remarks to open the White House Initiative on HBCUs' annual HBCU Week, Harvey said, "We face enormous challenges. These are difficult times for our institutions, our students and their families."
HBCUs' statuses
In the 2014 State of HBCUs Report, a survey of 105 HBCU stakeholders, including 28 current and former presidents and administrators, listed financing university programs as the top challenge faced by the HBCU community, with affordability and insu­fficient leadership/governance running close behind.
An early draft of the 2012 annual report on the participation of HBCUs in federal programs suggests that funding to HBCUs has experienced a downturn, compared to all institutions of higher education, in recent years.
In 2007, HBCUs were awarded $1,253,719,673 in grants from federal departments and agencies, compared to $34,936,125,000 overall—3.59 percent of all funds awarded. Following a boost in 2008 to 3.74 percent ($1,376,998,620 out of an overall $36,776,779,000 awarded), there has been a fairly steady decline in federal funding to the HBCU community (with the exception of 2011) through 2012, the most recent year for which data are available.
According to Harvey, the impact of this trend has been felt on HBCU campuses.
"Federal support for HBCUs is showing an alarming downward trend, and our friends in Washington need to know that we are watching and counting," he said in September. "… Over the last several years, all of the major Title IV programs had modifications and adjustments, which make it much harder for HBCUs to get funding. We all know of the Parent PLUS debacle that resulted in these loans to our students being down.
"Pell grants to our students are down. Direct loans to our students are down. Graduate subsidies were eliminated. In addition to student support, overall support to Black colleges is down. All of these changes had a significant impact in terms of availability of funding for students."
Toldson says that many of these decreases in funding are the result of cyclical economic changes felt by the entire nation.
"In many ways, HBCU funding mirrors the economy, which was falling off a fiscal cliff near the end of the Bush administration, recovered through stimulus and reinvestment at the beginning of (the) Obama administration, however, has yet to make a full recovery," Toldson says. "I'm hoping that we can get those numbers moving in a positive direction, but as we examine the last five years, we need to look at the highs and lows to get the best perspective."
But many in the HBCU community have been disappointed by the Obama administration's lack of advocacy on their behalf. Several HBCU stakeholders have mentioned the wish that the president would take a firm, vocal stand in favor of HBCUs, similar to the one he has taken on community colleges. Of those surveyed for the State of HBCUs Report, 38.5 percent say they believe the president "means well, but doesn't get it" and an additional 35.6 percent say they don't believe HBCU issues are on his radar at all.
"The failure of (the) president to address the issue of equity in funding for the Black colleges and equal opportunity for the students they serve is (an) abomination and its impact will be multiplied many times over," says Dr. Earl S. Richardson, president emeritus of Morgan State University, and a supporter of the Maryland HBCU lawsuit, which was filed in 2006 on behalf of Maryland's public HBCUs: Morgan State University, Coppin State University, the University of Maryland Eastern Shore and Bowie State University.
The suit asserted that the state had failed its obligation to make its HBCUs comparable and competitive to the traditionally White public institutions in the state.
"That indifference has now spread to the various federal agencies, corporations, foundations and other philanthropic organizations," Richardson says. "The result is a shift in funding from the HBCUs to traditionally White institutions to educate minorities and to conduct research on Blacks and the Black institutions. … It threatens to do irreparable damage to the reputation and cause of both HBIs [historically Black institutions] and the Black community as a whole. This administration seems prepared to fight the cause of everyone but Black people."
Indeed, 47.1 percent of those surveyed say they'd like to see stronger advocacy from the president on behalf of the community. But the blame does not stop with the president himself; 58.1 percent say they'd like to see stronger consideration of HBCUs from Education Secretary Arne Duncan and 70.5 percent would like stronger advocacy on their behalf from the White House Initiative on HBCUs.
Stronger representation
Encompassed in the lack of advocacy at the federal level is what many in the HBCU community believe is a lack of representation at the policy table. Of those surveyed, nearly two-thirds, 66 percent, say they believe HBCU leaders are often excluded from broader conversations about higher education. An additional 23 percent say that there is a seat available but HBCU leaders do not take full advantage.
"Only select private HBCUs are asked to engage in federal policy conversations," says Dr. Cynthia Jackson-Hammond, president of Central State University in Ohio. Jackson-Hammond's sentiments are similar to those of others surveyed.
But, Jackson-Hammond says, some of the onus is on the HBCU leadership. Saying she believes that HBCU leaders do a great job of communicating the challenges and triumphs on campus when asked but do not do well at initiating communication, Jackson-Hammond says some of the burden is on HBCUs to better tell their stories.
"Traditional HBCUs must be more engaged in telling (their stories) of performance and excellence. When resources are limited or restrictive, the focus for institutions is to simply 'get the job done.' The focus has not been on touting the accolades of the institutions," Jackson-Hammond says.
Harvey agrees. "Now more than ever, we need to support our own institutions and let our voices be heard," he said in Washington in September.
Some would argue telling the stories is easier said than done. Sixty percent of survey respondents say they don't believe HBCUs have numerous outlets and channels to make their voices heard on a national level. And even among those that agree that the channels exist, there are questions about the extent to which HBCUs leverage them. Lack of a unifying message, for instance, is one issue.
"While there are numerous options for HBCUs to project their voices, there is lack of coordination that will be necessary for HBCUs to effectively ensure their continued viability as a unit," says Bartholomew J. Worthington III, an Oakwood College alumnus.
But, as Toldson notes, it is difficult to rally around a unifying message when the needs and conditions of the schools vary so greatly. ­The plight of state schools—which are facing decreased state funding almost across the board, particularly in states like Louisiana and South Carolina—is different than that of their private counterparts.
Some schools, like Xavier University in New Orleans, have reinvented their value proposition to position themselves as more competitive. A select few others, including Wilberforce University, are fighting accreditation battles.
Survey respondents are torn on whether they believe HBCUs should have to reinvent themselves to compete. Forty-eight percent say no, but 36.3 percent believe it is a necessary move to ensure future competitiveness in the broader landscape.
Dr. James A. Anderson, chancellor of Fayetteville State University in North Carolina, says HBCUs "need to engage in a strategic planning process that defines what it means to be competitive and relevant in the 21st century."
Among respondents, 20.7 percent believe that HBCUs should tweak the emphasis on serving primarily Black students, 13.8 percent believe that the schools should tighten admissions standards to admit fewer students with what may be considered lower academic potential and 29.3 percent believe that "specializing" in a specific discipline, rather than being so broadly liberal arts focused, could help boost HBCUs in the current landscape.
Jackson-Hammond says she believes that a combination of these things is important. She says that the schools "have a responsibility to preserve [their] historical context of perseverance, excellence in providing quality academic, collegiate experiences and being completely unapologetic for (their) past, current existence or (their) future."
"Institutions whose mission is to serve the politically, socially (and) economic underserved do not need to apologize for that mission," she says. "Out of those institutions have come more minority physicians, teachers, engineers, attorneys, entrepreneurs, political and civic leaders, and community change agents."
At the same time, Jackson-Hammond acknowledges that "HBCUs historically were steeped in liberal arts and, within the last 20 years, the shift has been toward increasing academic programs in science, technology, engineering, mathematics and agriculture, which are primarily driven by (the United States') need to be more competitive in the world market."
­The challenge for these institutions, Jackson-Hammond says, "is the perception of being myopic in (their) mission and vision."
Most people fail to recognize that "HBCUs were never exclusive to one race, culture or ethnic group, but opened to the underserved," continues Jackson-Hammond. This included anyone who sought "to enrich their lives through academic experiences, and who had the desire to increase the economic, social and moral fabric of their families."