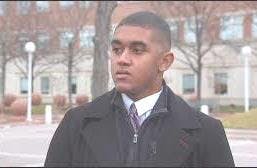 Bowie State student Kevin Hayes says he was concerned about being labeled a "snitch" if he had come forward with his hazing allegations last year.BOWIE, Md. — A Bowie State University student suing a campus fraternity for $3 million says he was relentlessly abused and bullied during his semester as a pledge.
Kevin Hayes, 20, filed the lawsuit against the Baltimore-based Alpha Phi Alpha fraternity on Monday in Prince George's County Circuit Court.
In his lawsuit, Hayes said that the hazing began with beatings and humiliation in fall 2013 and that abuse over a two-month period included being punched and body-slammed and being paddled by masked men.
Hayes' attorney, Jimmy Bell, said the beatings were nightly, sometimes lasted hours and continued after Hayes' mother complained to the university.
"I was tired, I was hungry, and, through all this, I couldn't tell a single soul what was going on," Hayes told WJLA-TV. "If I did so, I'd be considered a snitch."
A fraternity spokesman said the allegations were being investigated and that activities for the Bowie State chapter had been suspended.
The university is not named in the lawsuit but said in a statement that the school "has a stringent anti-hazing policy that is coupled with a strong anti-hazing education program."
"The university considers hazing to be indefensible and contrary to the interest of the university community," according to the statement, issued by school spokeswoman Cassandra Robinson.
None of the alleged hazing incidents occurred on campus.
Hayes said that part of the reason he was filing a lawsuit was because he "didn't want this to happen to anyone else after me."