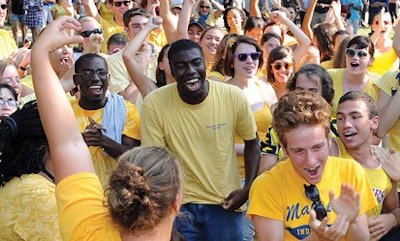 Last year, Goucher College made an unusual proposition. Prospective students could apply to the college with a simple two-minute video featuring the student explaining why he or she might be a good fit. No high school transcripts were required.
The preliminary results of the experiment are in. Back in September, Christopher Wild, Goucher admissions counselor, told Diverse that the college would consider the Goucher video app (GVA) a success if 25 to 40 students were admitted to the Towson, Maryland, college through it.
Bennington College in Vermont made a similar decision to eschew high school transcripts this fall, albeit to lesser fanfare.
Goucher reports that, as of the Dec. 1 admissions deadline, the college will have a pool of 64 students to choose from who applied through the GVA. According to a press release, Goucher will admit 75 percent of the students who applied using the GVA, indicating that the goal of 40 students will be exceeded.
"We took a risk with the Goucher Video App, and we are optimistic it is paying off," Goucher president Dr. José Antonio Bowen said in a statement. Earlier this year, Bowen touted the GVA as a means to reach out to students who might not otherwise apply to Goucher and increase diversity.
Goucher also revealed the average GPA of the 24 GVA applicants who submitted their high school transcripts. Their 3.11 average is almost identical to the 3.18 that traditional applicants averaged.
The GVA also met Goucher's goals for increased diversity: 52 percent of applicants self-identified as students of color, and 39 percent self-identified as African-American. Among traditional applicants, 18 percent were African-American.
In the analysis of David Hawkins, director of public policy and research at the National Association for College Admission Counseling, Goucher's decision met two goals. On the one hand, there are certain "administrative realities" that need to be met, namely, keeping enrollments healthy.
Goucher had 1,825 Early Action applications this year, its highest yet.
"Ideally, as you look at the back end of this process, what you would want to see is increased enrollments, or at least the enrollments that you need, and maybe even more focused applications from students," Hawkins said.
As long as enrollment needs are met, creating an alternative admissions process has a secondary benefit: attracting a more diverse student body. Traditional admissions processes tend to favor students from financially secure backgrounds, or students whose parents and grandparents went to college.
On the flip side, those "processes and criteria may in fact be disadvantaging classes of students based on income, family level of education, first-generation status, and even race and ethnicity," as Hawkins put it.
Data bears that statement out. The SAT sets its college and career readiness benchmark at 1,550, which indicates that a student has a 65 percent chance of getting a B- at a four-year college. Only 15.8 percent of Black students met that benchmark last year, according to the recently released SAT results for the class of 2014 from the College Board. The numbers also show that higher scores correspond to students whose parents who have higher levels of education and higher incomes.
Despite that, Hawkins said, colleges and universities are attached to their metrics that they use to measure their incoming students classes. Top schools like Harvard, Stanford and the University of Virginia boast of the outstanding scores and high grades each incoming class brings — for them to give up that barometer of success in upcoming years is unlikely.
So for Goucher and Bennington to remove that competitive edge from their admissions process is a relatively courageous move, Hawkins said. "Make no mistake about it, [Goucher will] have to examine [the GVA] and see if it works for them, but the fact that they've been able to take this big first step is an achievement."