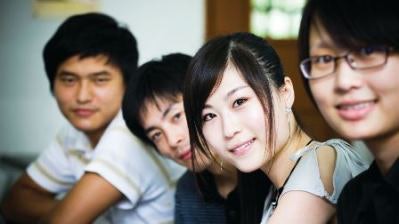 NEW HAVEN, Connecticut — Yupei Guo does not fit the mold of the traditional Ivy League student from China: Her journalist parents are neither rich nor members of the governing elite.
Growing up, she thought the cost would make it impossible for her to attend one of the famed American universities. But by the time she applied to Yale, it was among the U.S. schools investing in more economic diversity among their growing ranks of international students.
Guo, 19, is now a second-year student at Yale, happily settled among the school's Gothic buildings. Most would never guess university grants cover much of the Beijing native's tuition, at least not judging by the questions she gets around New Haven.
"I did get asked if I were some sort of distant royal family member, which I'm not," she said.
Top U.S. universities that worked to overcome reputations for serving only children of the American elite are now pushing to do the same with their international students. With more undergraduates coming from overseas than ever, Yale, Harvard and other schools—with help from the U.S. State Department—are trying to attract students of more varied financial backgrounds.
No country is receiving more attention than China, which sends far more students to the U.S. than any other country. Nearly 275,000 students came from China last year, 31 percent of all international students, according to the Institute of International Education.
As China has grown more prosperous, many U.S. colleges have stepped up recruiting there, seeking revenue-generating students who can pay their full way. A small number of schools pledge, like Yale, to meet the full financial need of admitted international students, and for them it is a matter of making that known around the country of 1.3 billion people.
A student-run organization at Harvard University holds college-style seminars annually for dozens of Chinese high school students, offering financial aid to help draw from all the country's provinces. At Yale, which in 1854 graduated the first Chinese person to earn a degree from a U.S. college, international students are deputized as "ambassadors" to talk with students while home on break. Admissions officers from both schools regularly travel to China.
Yale extended its need-blind admissions policy to international students in 2001, and Dean of Admissions Jeremiah Quinlan said the makeup of students from China and other countries has since changed dramatically. International students have gone from representing 3 percent of the student body, mostly from high-income families, to 11 percent, with greater diversity.
"The diversity of our international student body has really exploded, frankly to a greater extent than our U.S. socioeconomic diversity has over time," Quinlan said. He said most of the dozens of Chinese undergrads receive financial aid at Yale, where tuition, room and board cost nearly $60,000 a year.
Guo attended a selective public high school in Beijing and learned from upperclassmen the names of U.S. schools with need-blind admissions—Yale, Harvard, MIT, Princeton, Dartmouth and Amherst. She visited Yale during high school—on a U.S. visit for model United Nations—and felt energized by the posters advertising campus activities.
At home, her departure was met with a mix of admiration and scorn.
Yale is a celebrated name in China, where her acceptance prompted calls from reporters. But Guo said there is also a stigma that comes with attending college in the U.S., as though those leaving failed to fit into the Chinese system. And there is bitterness: Financial concerns prevent many of her friends from going to college at all.
Two Chinese real estate moguls, Pan Shiyi and Zhang Xin, are prodding American universities to do more by giving them money to support low-income students from China. Through their SOHO China Foundation, they so far have awarded $15 million to Harvard and $10 million to Yale.
The admissions directors at Yale and Harvard say the gifts align with their goals of encouraging more Chinese students to apply. The universities say it's about promoting empathy and creating the diversity sought by students and faculty.
Finding candidates outside China's elite circles is not easy. The affluent have access to the best schools—even more than in the United States—and admissions officers say many students assume they must have political connections.
There are also language and logistical hurdles: The SAT has limited availability in China and applicants must be fluent in English. Guo learned English as a child when her parents were posted in the United Kingdom by their Chinese newspaper for three years. For the SAT, she had to travel to Hong Kong.
To help address such difficulties, the State Department's EducationUSA program created a $1 million fund to provide aid for costs like application fees, said Evan Ryan, an assistant secretary for Educational and Cultural Affairs.