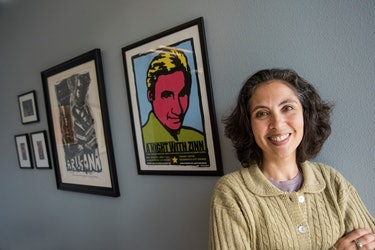 Standing in the middle of the new center for undocumented students she helped create at the University of California, Davis, Ana Maciel, a junior, gets a little choked up describing the walls going up and desks and couches starting to fill the small space in October.
"I'm getting a little teary-eyed now talking about it, to be honest," Maciel says. "I walked in and saw the fruits of all that hard work."
­The center, officially called the AB540 and Undocumented Student Center, is unique in the UC system and even the country, in its specific mission to aid undocumented students. (AB540 refers to the California law that allows students to pay resident tuition if they have attended a California high school for at least three years, graduated and met other requirements.)
Undocumented students face various obstacles to higher education. For example, they cannot receive federal financial aid and often cannot work due to their status. But the barriers go beyond the financial. Undocumented students can feel isolated and fearful of deportation.
­This center tries to address that. Along with offering academic, emotional and legal counseling, the center's goal is to give students a sanctuary.
­That means a lot, says Maciel, the academic coordinator for the center as well as one of the driving forces behind its creation.
"I just had a student yesterday," she says. "She honestly just stared at the whole place, and just said, 'Wow, I feel like I'm home, like there's a place for me here.'"
Last year, UC Davis received $500,000 for its approximately 200 undocumented students after UC President Janet Napolitano announced a $5 million initiative to serve students without papers in the UC system.
Creating the center was the right move, says Adela de la Torre, vice chancellor of student affairs at UC Davis. It's not just offering support for the students, she says — it gives everyone the opportunity to talk about a critical issue.
"When you see the physical space, it creates a reaction, whether it's positive, negative or neutral," de la Torre says. "It creates a meaningful dialogue for faculty and visitors who are polarized on this issue and a compelling narrative of why it's needed."
Fitting in
Maciel, undocumented herself, has often dealt with officials who don't understand the circumstances — or the paperwork — undocumented students grapple with. The center provides that understanding, she says. It's a huge relief, she adds, to have a place where everyone knows one's situation and one does not feel as if they need to keep exposing one's self and not getting answers.
Maciel says she remembers when she thought she'd never get here. Born in Mexico, she came to California's Salinas Valley with family members as a child. Growing up, Maciel thought that it was exciting she was from somewhere else. But she started realizing the implications of not having a Social Security card as a senior applying for college. Until then, no one but her family knew Maciel was undocumented.
"In my personal statement, I exposed my status," she says. "That was the very first time where I actually started talking about being undocumented, and it was weird because I wasn't talking to someone, I was talking to a paper."
During the application process, Maciel realized she wouldn't receive financial aid.
"I began contemplating not even attending college," she says. "That was a real thing for about a month for me. It was very stressful and I was very emotional that whole month. I remember probably crying myself to sleep five out of the seven days."
But, with encouragement from her mother, who raised four kids on her own, she persevered.
"I had to go through more challenges than the typical student, but I was OK with that," Maciel says brightly. "I just knew somehow we were going to make something happen. Somehow I was going to graduate. And now we have a center!"
With Deferred Action for Childhood Arrivals, or DACA, and AB540, things have gotten easier for undocumented students in California, says Andrea Gaytan, the center's director. Still, students live with much uncertainty, which she says she hopes the center can address.
"Undocumented students are very vulnerable when they reveal their status because oftentimes people tend to exploit them and use the threat of deportation," says Gaytan. "We want students to feel supported, to know that, for example, they can go to the campus police department and report that they are being mistreated or threatened or that their rights are being violated."
That's why the center has partnered with the law school's Immigration Law Clinic. At the clinic, across the grassy campus from the center, the legal fellows are meeting. Marcus Tang, a UC Davis graduate who offers his legal expertise at the center two days a week, gives an update about helping students with DACA renewals. Tang's parents emigrated from China. Seeing their struggles, he says, made him want to be involved in this kind of work.
"It was just a feeling like we didn't belong and being conscious as a child of seeing my parents try and interact with community members who didn't really understand the immigrant experience," says Tang. "That was always kind of difficult for me as a kid."
Helpful assistance
UC Davis is 18 percent Latino and 40 percent Asian. The center serves undocumented students from any background, but those groups are the majority of the undocumented students at the university.
Tang says, in his experience, all undocumented students have something in common. "I think a common thread among any person who is undocumented is that fear — this constant feeling that your information could be reported to the government, right?" Tang says. "It transcends ethnic lines, whether Asian undocumented or Latino undocumented."
Law school dean Kevin Johnson says the clinic has a history of offering legal assistance to people most in need. That's what Tang and other fellows at the center do, he says — give tangible help with things like filling out forms, which may sound simple but can be an arduous process.
"Immigration legal procedures of all kinds can be scary and frightening," he says. "The immigration laws are among the most complex of all the laws, and there [are] a lot of sort of minefields in some of these forms. It's important that you get things right — you can be punished if you don't fill it out accurately."
But it's not just the legal problems, financial struggles and the fear that makes it hard for undocumented students, Maciel says.
She says she "felt helpless" the beginning of her freshman year due to limited resources and fear of identifying herself as undocumented to campus entities.
"I was afraid I was going to get judged and, after being judged, I was going to have no friends," she says. "So I think the social aspect is very isolating."
John Martin Manzano de Guzman felt like that at Cal Poly. A junior, he transferred to UC Davis after hearing about the center. He was looking for a sense of community; he says he found it.
"The center is like a sanctuary for me," says de Guzman, who moved from the Philippines to Fremont, California, when he was nine. "I can be open about my status there, and no one will really judge me. I don't have to keep explaining."
That's what Maciel and Gaytan say they want the center to be: a place to relax as well as an important resource. Gaytan hopes this holistic model of offering all services in one place will be replicated on other campuses — she's already had inquiries from other colleges in California and Arizona.