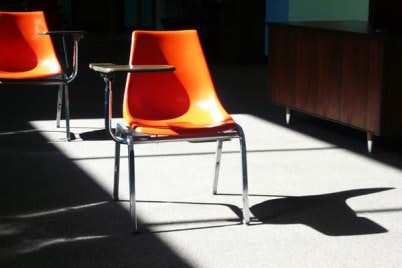 Washington — College counselors should do more to steer community college students with poor grades toward sub-baccalaureate credentials that lead to good-paying jobs instead of allowing them to become college dropouts who miss out on the higher earnings associated with a postsecondary credential.
That was one of the key recommendations made on Capitol Hill last week during a panel discussion titled "The New Forgotten Half: Those Who Pursue College But Never Earn a Degree."
Barbara Veazey, president at West Kentucky Community and Technical College, said she often gets pushback back from counselors on the merits of providing students with practical advice about whether they have the academic skills it takes to get into a particular career.
Veazey said advisers should caution a struggling nursing student, for instance, that "nursing won't fit into your pathway right now. Let's look at something else," such as a nursing assistant.
"Counselors say, 'I don't see that as my job,'" Veazey said. "Yes, it is your job," she said, citing the example of a nursing student who is dropping out of the college without a degree because of her inability to complete the math requirement.
Veazey was one of several speakers at the discussion — hosted by the American Youth Policy Forum — who suggested the role of college counselors is critical in stemming the tide of dropouts and advising more students to pursue certificates and other credentials short of a two-year or four-year degree.
Even though it may be hard to tell a low-income student with poor grades to aim for a sub-baccalaureate instead of a bachelor's degree, it's better than ignoring research that shows they will likely not complete their degree programs, said James Rosenbaum, a professor at Northwestern University and lead author of "The New Forgotten Half and Research Directions to Support Them."
"For students with low achievement, there's real low odds of getting a B.A.," Rosenbaum said, calling literature on remedial education "depressing."
"And despite hopes for it, remedial education has not realized those hopes," he said.
He noted that, among community college students, only 20 percent earn a bachelor's degree, while 33 percent earn a certificate or an associate degree.
Rosenbaum noted that some sub-baccalaureate degrees lead to rewarding and high-paying careers, particularly in health-related fields. He cited the example of surgical assistants and X-ray technicians as examples.
"These are not low-paying jobs. They are not bad jobs," Rosenbaum said. "But we need to get a new awareness on this."
While Veazey and Rosenbaum pushed for greater emphasis on sub-baccalaureate degrees, some members of the audience questioned whether such a shift would be progressive or a move that hearkens back to President Woodrow Wilson's call for a two-tiered system with "one class of persons to have a liberal education," and "another class of persons, a very much larger class of necessity in every society, to forgo the privilege of a liberal education and fit themselves to perform specific difficult manual tasks."
"Yes, I'm advocating a two-tiered approach, but not either-or," Rosenbaum said. "I'm saying we can do both.
"We can combine these things and then build it into the structure, with career ladders," he said.
Josh Wyner, executive director of the College Excellence Program at the Aspen Institute, said advising students about their options sooner "doesn't mean locking students into choices," although he acknowledged that it could be "hard work" to help students choose educational programs that are "stackable" to other things.
Community college course options often represent a labyrinth of options that is difficult to navigate, Wyner said.
"The advisers can't even figure it out," he said.
Wyner also cautioned against creating a system that tracks students into different facets of higher education based on their socioeconomic status.
"We shouldn't be channeling students based on skin color or the size of their parents' pocketbooks," he said.
Wyner said "cultural change" will be key at community colleges and must come from community college leaders. Resources are also an issue, he said.
"In essence, what we're asking colleges and community colleges to do is produce more degrees of higher quality aligned to the workforce for a more diverse student population at a lower per student cost," Wyner said.
Mark Mitsui, deputy assistant secretary for community college within the Office of Career, Technical, and Adult Education at the U.S. Department of Education, said change will require either the reallocation of resources or additional resources for community colleges.
He cited figures that show two-year colleges spend an average of $4,500 per student on instruction versus $9,398 at public four-year schools and $16,111 at private four-year universities.
"We have more selective institutions with more resources and students with fewer barriers having more money to spend," Mitsui said.
Jamaal Abdul-Alim can be reached at dcwriter@yahoo.com. Or follow him on Twitter @dcwriter360.