A new report from the Center on Budget and Policy Priorities released Wednesday warns that persistent cuts to state higher ed budgets will widen the gap of college degree attainment.
The report, titled "Years of Cuts Threaten to Put College Out of Reach for More Students," found that, in most states, funding for higher ed was lower in the 2014-15 school year than it was before the recession, which the authors contended put a huge strain on families trying to afford the cost of education.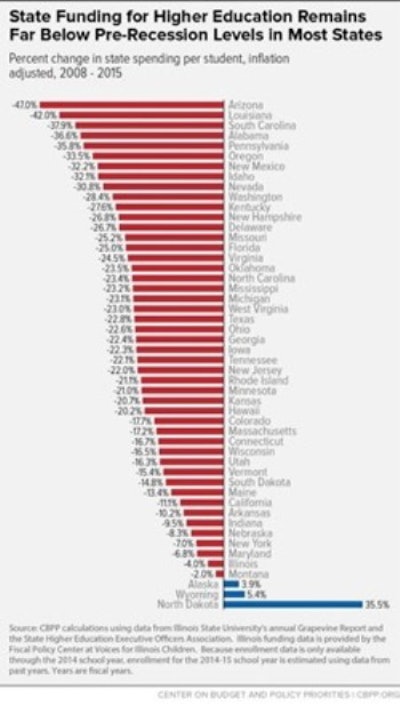 "On the front end, as costs increase for a lot of students and their families, especially low-income students, it creates barriers to access," said Michael Mitchell II, a policy analyst with the Center and one of the report's authors. "If students and their families perceive the cost is increasing, that in itself is a deterrent from applying."
Pointing out that the drastic cuts to higher ed spending across the country have led to tuition increases at many public two- and four-year institutions, Mitchell said, "We want to look at the university or the college and say 'What are they doing wrong,' but a lot of [the large increases in tuition] can really be explained by state funding."
"Tuition increases might have been covered by increases in federal financial aid, but … all of [the] other costs of attendance" are also increasing, and increases in federal aid have not been sufficient enough to compensate for the state cuts, Mitchell said.
Despite the fact that most states have increased funding again and allowed many universities to curtail tuition hikes (per-student funding was up 3.9 percent last year), funding across the board remains lower than 2008 levels, reflecting an average of 20 percent decrease in per-student spending across the country.
"When you put that into context," said Mitchell, "$13.3 billion has been cut from higher ed since the start of the recession."
In Alabama, Arizona, Louisiana, Pennsylvania and South Carolina, despite some gains last year, funding is down by more than 35 percent since the start of the recession. In addition, in 13 states — Illinois, Kentucky, Alaska, Arkansas, Texas, West Virginia, Oklahoma, Maine, North Dakota, Tennessee, Delaware, Vermont and Indiana — states have continued to scale back their higher ed spending even through the current school year. (Alaska, North Dakota and Wyoming, however, are the only three states whose 2014-15 funding levels were higher than the 2008 numbers.)
Four of the states with the deepest cuts (Arizona, Louisiana, South Carolina and Alabama) are also states with some of the highest poverty levels in the country. Of the remaining six in the top 10, only Washington has a less than 15 percent poverty rate — and just barely, at 14.1.
"I have a strong view that the more you invest in education, the stronger the workforce you're going to have," said Nick Clements, co-founder of MagnifyMoney.com, a company that works to educate consumers on the personal impact of student loans and other forms of debt. "So if you are in one of these chronic traps of underfunding education and you just continue to cut, you're never going to create the workforce that's required" to sustain the competitiveness of the national economy on a global scale.
Mitchell agreed. "We know that investments in higher ed and K-12 over a longer period of time does have positive impact on the economic indicators in your state," he said.
Clements said cuts to higher ed spending have delayed impacts that states can defer for a generation or two. So in states like California, which has traditionally had a highly educated and high-earning population, it may look like the state can afford to make cuts to higher ed spending, because the schools are benefiting from a prior surplus. But in 10 to 20 years, Clements said, future generations will suffer.
This idea is consistent with the report's findings that, in addition to tuition hikes, schools resort to faculty cuts, scaled-back course offerings, discontinued programs, closed campuses, shuttered computer labs and decreasing library resources to balance the budgets.
Mitchell said the conversation about whether to fund higher ed becomes "another conversation about policy decisions," noting that many states who choose to implement large cuts to the higher ed budgets are attempting to offset high tax breaks in the budget, when states "could have taken a more balanced approach to balancing the budget. Instead, they chose to rely more heavily on budget cuts, and one of the areas that really paid the price was higher ed."
"For example, legislators in Arkansas earlier this year passed a tax cut that will reduce revenue by nearly $100 million, while at the same time the state is spending more than $13 million less on higher education than it did before the recession — amounting to nearly $1,000 less in state support per student," according to the report.
Clements said the funding issue becomes a cyclical problem that impacts the taxpayers either way it's spun. If you don't fund education up front, because you don't want to allocate tax dollars to the education budget, you force students to take out loans, he said. And "the student loan default rate is growing … and that's ultimately going to come back to the taxpayer. Either way, the taxpayer is going to fund" higher ed, he said.