The oldest college or university in the mountains of North Carolina, Brevard College was founded
in 1853. As a private liberal arts college, Brevard offers a student-centered educational community that prizes experiential learning opportunities, a distinctive classroom experience, highly engaged faculty, and its unique mountain location.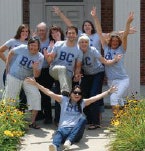 Student Affairs at Brevard has been led by Dr. Debora D'Anna since 2012. As vice president for campus life and dean of students, D'Anna guides a number of campus professionals tasked with many roles, including the following student affairs functional areas: career exploration and development, residence life, intramural sports, and community support services, to name a few.
On beginning her role at Brevard, D'Anna shares, "We have a great foundation to build on here. We want to be known as an engaged campus, one that fosters leadership skills and enhances student learning at every opportunity."
This idea resonates with Brevard's commitment to experiential learning. In addition, D'Anna sees campus life's role at Brevard to build and strengthen relationships. To that end, student affairs professionals at Brevard are actively included in long-term planning, provided significant autonomy to perform their many job responsibilities and encouraged to take advantage of opportunities for professional development.
It is their commitment to engagement and learning that makes Brevard College one of this year's Most Promising
Places to Work in Student Affairs at Baccalaureate and Liberal Arts Institutions.