One of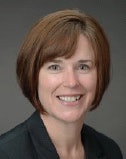 the oldest public universities in America, Ohio University was founded in 1804 with a mission of developing students personally and intellectually. The university seeks to realize its mission by emphasizing development in its core values of community, character, civility, citizenship and commitment.
Dr. Jenny Hall-Jones, interim vice president for student affairs, has a long history with Ohio University, earning three degrees from the university and most recently serving as a faculty member for the last 19 years. She leads the Division of Student Affairs' 133 full-time and 1,489 part-time professional and student staff members in a number of areas, including the Campus Involvement Center, campus recreation, career and leadership development, community/student standards, counseling and psychological services, and housing, to name a few.
According to Hall-Jones, "Ohio University provides a transformative learning community that nurtures the intellectual
and personal development of all our students. This recognition reflects well on the work of our faculty and staff across the university to enrich our students' lives. … What sets Ohio University apart is the focus we place on
inclusivity and acceptance here. Our student affairs staff plays a big role … in our efforts to foster this sense of community. We invest in professional development opportunities — including division wide sexual misconduct, suicide prevention and social justice trainings — that reflect our mission to be as prepared as possible to best support our students. For students and administrators alike, I think it is true that you don't have to fit a mold
to fit in at Ohio University. Come as you are — you'll find a place here."
Ohio University desires to develop a campus work environment that allows free exchange of ideas while eliminating discrimination and promoting ethical behavior. They believe that the best work can be done by forming partnerships across the division as well as with colleagues across campus and with the broader Athens community. Its dedication to campus and community collaboration, while also intentionally investing in the development of its staff , is what makes Ohio University one of this year's Most Promising Places to Work in Student Affairs at Research Institutions.