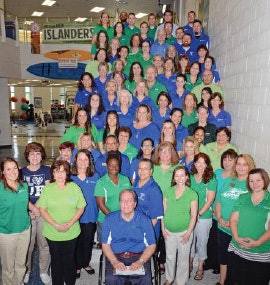 Known as the Island University, Texas A&M University–Corpus Christi (TAMUCC) is the nation's only university located on its own island. TAMUCC was founded in the heart of the Texas Gulf Coast with the goal of serving the intellectual, cultural, social, environmental and economic needs of South Texas.
Vice President Don D. Albrecht leads TAMUCC's Division of Student Engagement and Success. Dr. Albrecht oversees 63
full-time and 4 part-time college student educators in a host of campus offices, including career services, recreational sports, disability services, judicial affairs, the University Counseling Center, and residence life. Under Albrecht's leadership, TAMUCC's Division of Student Engagement and Success is committed to creating co-curricular experiences designed to help students acquire skills beyond the classroom.
When he learned of TAMUCC's selection as a Most Promising Place to Work, Albrecht shared, "We are deeply honored to receive this designation. The division fosters an environment to include all students and staff as they are, where they are. We also celebrate diversity and cultures as a way to include individuals, especially those historically marginalized. We want everyone to feel valued and supported. Ultimately, inclusion leads to engagement and engagement leads to success."
As a research institution uniquely devoted to serving the needs of South Texas, TAMUCC and its Division of Student
Engagement and Success are dedicated to engaging diverse students and staff on campus and in the community. This distinctive mission, coupled with TAMUCC's culture of inclusiveness, makes TAMUCC a Most Promising Place to Work in Student Affairs at Research Universities.