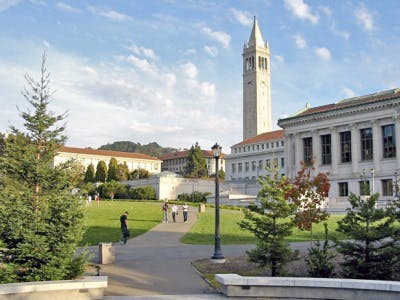 In a move largely aimed at stepping up the recruitment and support of Black students, the University of California-Berkeley has announced that it is seeking to launch a privately-run African-American student scholarship fund and is taking steps toward making the flagship campus a more welcoming environment for African-American students, faculty, and staff.
Since the late 1990s, following passage of California Proposition 209, which banned race-conscious admissions and scholarship policies in the California higher education system, UC-Berkeley has struggled to attract and retain African-American students, who now comprise 3 percent of the school's undergraduate population. University of California (UC) officials say Blacks make up 4 percent of graduate students and 2 percent of the faculty.
"For too long, African-Americans on our campus have faced obstacles to feeling fully included in the life of our university," UC-Berkeley Chancellor Nicholas Dirks said in a statement.
The new African American Initiative is "predicated on our collective determination to engage and improve the campus climate for African Americans across every sector of our community." Progress "cannot and will not happen solely as the result of administrative dictate," Dirks noted.
"The success of this initiative will depend on effective and ongoing collaboration among all of us here on the campus and, crucially, our alumni and friends, whose support will be essential if we are to make good on our aspirations," he said.
A critical component of the initiative will be a $20 million scholarship fund to be privately organized and managed to dodge the state ban on public institution use of race-conscious policies. The planned fund, similar to one launched several years ago to help attract Black students to the University of California-Los Angeles campus, is expected to increase the appeal of enrollment at UC-Berkeley, especially among Black students who end up weighing more than one college admission offer.
Dr. Gibor Basri, the UC-Berkeley vice chancellor of equity and inclusion, said that, with additional scholarship support, it's possible for the university to boost its Black student enrollment given that many admitted students entertain better financial aid offers from other schools. In addition, Basri noted that the UC system has found in survey data that UC-Berkeley's African-American students report the "campus climate as quite poor, [and] that at other campuses where there are more Black students, they're less unhappy" with their campus experience.
"The African-American population at UC-Berkeley is the one that feels the least included. It's not just students, but faculty and staff," Basri told the San Jose Mercury News.
"We decided it was a good time to step forward with some specific actions to improve the situation on the Berkeley campus," Basri said.
"We are being very public with the initiative in the hope that we can engage the Black community and our Black alumni in helping us to move these issues forward," he added.
Another critical element of the African American Initiative will be a focus on building a "critical mass" of African-American students, faculty, and senior staff at the university to mitigate the sense of isolation students have reported feeling at the university.
Gibor said that he believes UC-Berkeley's "climate and sense of inclusion" for undergraduates would become much healthier at double the current representation, or 6 percent, which is what Black representation is in California overall and what it was on campus prior to Proposition 209.
Mansour Id-Deen, president of the Berkeley chapter of the National Association for the Advancement of Colored People (NAACP), told the San Jose Mercury News that his organization fully supports the UC-Berkeley effort.
"The city and the university need to recapture the progressive thinking that they've had in the past. We want Berkeley to retake its rightful place in the progressive movement," he said.