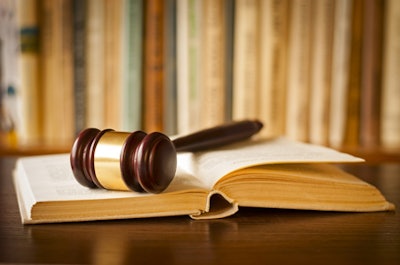 A nursing student who failed a mandatory test four times in a required course despite disability accommodation isn't entitled to her bachelor's degree, a federal judge in Covington, Kentucky, has ruled.
U.S. District Judge William Bertelsman cleared Northern Kentucky University in a suit brought by Lauren Hendrix, who had flunked the test and thus the course in her last semester in the program.
Hendrix enrolled in the BSN program in spring 2010. The catalogue at the time listed a final-semester course that all nursing students needed to graduate.
The requirements for that course included a minimum 900 score on a practice licensing exam from Health Education Services Inc. The program had added that requirement after Hendrix enrolled but before she took the course to help ensure that at least 85 percent of its graduates would pass the national licensing exam on their first attempt, as the Kentucky Board of Nursing mandated.
Hendrix received accommodations each of the four times she took the practice exam but failed each time and, thus, failed the course, the decision said.
As a result, the university told her she needed to repeat her final-semester courses. Rather than doing so, she filed an unsuccessful internal appeal and then went to court alleging violation of her due process rights.
In his decision, Bertelsman said the university had the right to change the content of the contested course to require passage of the practice exam.
"It is not disputed that the addition of the practice examination to the course was needed, in the judgment of the university, to improve its graduates' ability to pass the licensing exam pursuant to Kentucky state regulations," he said. "If the passing rate was not improved, the university nursing program stood to lose its accreditation."
He also found no violation of Hendrix's due process rights.
The administrators who denied her internal appeal had a factual basis for interpreting the course catalogue as allowing the practice exam requirement, he said.
Suit can go forward
A former student of Indian descent who was dismissed from medical school at Midwestern University after failing a pharmacology course can pursue her pregnancy-related discrimination claim but not a race or national origin discrimination claim, a federal judge in Chicago held.
Ayesha Khan presented enough evidence, including a physician's letter, to proceed with her Rehabilitation Act allegation that the university hadn't provided reasonable accommodations during her pregnancy, U.S. District Judge John Blakey said.
Khan enrolled in the program in fall 2010, became pregnant in February 2013 and suffered physical and psychological complications from the pregnancy, according to the decision.
In support of requested accommodations such as adjustments in course schedules, tests and rotations, Khan submitted a letter from her treating physician stating that she had pregnancy-related depression and anxiety.
After a two-week medical leave, she told a professor about the health complications, and the professor criticized her and said she was "busy making babies," the suit alleges.
She also arrived late at her pharmacology final due to traffic and "subsequently experienced anxiety, nausea and light-headedness as a result of her pregnancy," the suit said. The professor denied her request to take the final later and gave her a failing grade.
She sued the university after unsuccessfully appealing her dismissal.
In his decision, Blakey said that the "temporary nature of her impairment does not bar her claim" under the Rehabilitation Act because that law isn't restricted to long-term or permanent disabilities.
She alleged sufficient facts to show pregnancy-related impairments that "substantially limited her ability to learn and participate in her education," he said, noting that attending school and learning can constitute a major life activity under the law. The letter from her physician also said that her health problems made it impossible for her to fulfill her academic responsibilities.
As for the Title VI discrimination claim, however, Blakey said Khan didn't provide factual support for the allegation of intentional discrimination based on race or national origin. For example, he said, there was no assertion that the university had treated students of other races or national origin differently or that anybody associated with the university made comments related to her race or national origin.