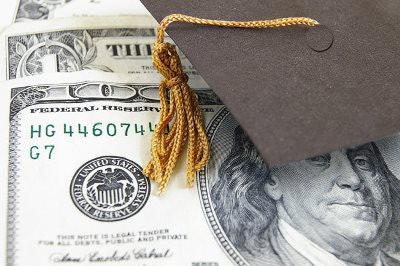 A college degree is an investment in the knowledge and skills that give students a competitive edge that defines their careers and enriches their lives. For generations, this has been hard-wired into our conceptions about the "American Dream." However, the price of higher education forces most college graduates to carry a heavy burden long after they earn their degrees.
With more than $1.2 trillion in outstanding student loan debt—$38 billion in New Jersey alone, according to the U.S. Department of Education—making college affordable is imperative. As the economic and social costs of student loan debt continue to rise, it is essential for universities to do more to address these debt challenges.
According to the Institute for College Access and Success, 69 percent of students who graduated from public and nonprofit colleges in 2014 had student loan debt, with an average of $28,950 per borrower. That represents a four percent increase over the last decade. During this period the average debt at graduation rose at more than twice the rate of inflation.
Over the last ten years, the average student debt for graduates of New Jersey institutions grew from $16,223 in 2004 to $28,318 in 2014. Fifty-eight percent of New Jersey four-year college graduates had debt in 2004, increasing to 68 percent in 2014.
If America's public higher education system is to remain accessible to the majority of Americans, change—radical change—needs to occur.
Rutgers University–Camden is making significant progress in that direction. In October, Rutgers–Camden announced a new financial support program that will transform access to a Rutgers degree by helping low and moderate income New Jersey families in dramatically reducing their college costs by waiving tuition in full or by half. The groundbreaking "Bridging the Gap" initiative is the first of its kind among New Jersey's public four-year colleges and universities, and it strengthens Rutgers–Camden's commitment to providing access to a world-class Rutgers degree within a supportive campus environment.
Rutgers–Camden's "Bridging the Gap" initiative is an innovative response that is structured to help ensure that every New Jersey student and family seeking a world-class Rutgers education can do so in South Jersey. Furthermore, the program offers a pathway to achieve a Rutgers degree regardless of race, ethnicity or socioeconomic status.
Children from low-income families are not only less likely to finish high school, but also much less likely to enroll in college. In 2012, only 52 percent of children from low-income families enrolled in college right after graduating from high school, according to a White House report on college opportunity for low-income students.
Students from low-income families constitute only 20 percent of all college students and are a meager 13 percent of those attending public research universities. Even with financial aid, students from low-income households must still find a way to finance an average of $10,000 per year in remaining college costs. For many, it is an amount too large to overcome.
Meanwhile, families that earn more than $60,000 a year almost never qualify for the federal Pell Grant program, and consequently families can expect to be responsible for at least the first $20,000 in school costs every year, as outlined this year in Time magazine.
By reducing or eliminating that debt, universities can open doors to access and affordability and advance student success, especially for students from underrepresented communities.
Our "Bridging the Gap" program helps families clear that hurdle. Families with an adjusted gross income of $60,000 or less will receive a grant covering all of their tuition and the general campus fee not already covered by federal and/or state grants. Families with an AGI of $60,001 to $100,000 will receive a grant covering 50 percent of their remaining tuition and the general campus fee after any other need-based federal and/or state grants are applied.
The program is offered exclusively to New Jersey residents who will be new first-year undergraduate students enrolling full-time in degree programs on the Rutgers University–Camden campus. Students graduating from high school in 2016 who are U.S. citizens (or legal permanent U.S. residents) and residents of the State of New Jersey and who are seeking to enroll at Rutgers University–Camden next fall can apply for this program by completing the 2016-17 Free Application for Federal Student Aid (FAFSA) and their application to Rutgers University.
A recent poll conducted by the education website Noodle found that 60 percent of parents rated affordability as highly important when looking for a college; 52 percent hoped their child would graduate with no debt.
In response to escalating tuition across the country (there has been a 1,225 percent increase over 36 years), those same parents indicated they would rather their child attend community college for a year or two to help cut costs, but even the average cost of tuition and fees of U.S. community colleges has increased by three percent over the past year.
Through the "Bridging the Gap" program, student loan debt carried by Rutgers University–Camden students during their time as students and for years after graduation will be greatly reduced; for many families, it may be avoided. This is just one example of what can be done to lessen the fiscal burden of student loan debt.
Lawmakers recently struck a deal to revive the expired Federal Perkins Loan Program, albeit with limitations, that has aided low-income students for 58 years. Programs like Perkins are essential to helping thousands of students finance their education. November 2015 marked the 50th anniversary of the original passage of the Higher Education Act, which paved the way for many economically disadvantaged students to attend college. However, it is clear that inequalities still exist and there is a need to continue to press for more robust legislation that will close the gap between students of disparate economic classes.
In the absence of a systemic overhaul of how our nation funds higher education, it is incumbent upon our colleges and universities to develop creative approaches to ensure that a college degree remains accessible to every American family.
Phoebe A. Haddon is the chancellor of Rutgers University–Camden.